This month, Tom Bihn is donating $200 to the International Federation of Red Cross/Red Crescent Societies for their efforts in Haiti and the donation will be in one lucky winner's name. Read on…
Tom Binh creates an array of travel bags, including messenger, laptop, backpacks, briefcases, weekenders, totes and a whole host of accessory bags for toiletries, passports and money. Here are a few of their products that seem to hit the sweet spot for travelers.
Small Cafe Bag
I have found myself recently in need of a bag that falls somewhere between a large backpack/laptop bag and a purse. Something that's large enough to hold my journal or notebook but doesn't need to hold a laptop, like when I'm traveling.
The small Cafe Bag (above) is the perfect fit for this. There's plenty of room in this shoulder bag for a guidebook, bottle of water and journal. Inside the main compartment are pockets for pens and a larger pocket for a camera or cell phone. There's a zippered outer pocket ideal for documents and the back open-top pocket could easily hold a map or magazine. There's also a key holder in the main compartment – a nice bonus so you know where to find your house or car key once you return home from a trip.
3D Clear Organizer Cube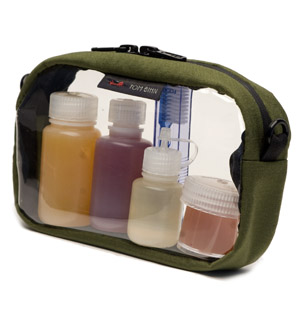 This bag is perfect for toiletries as it fits with the TSA requirements for your carry-on liquids. I used this on my recent trip to Salt Lake City and it fit everything that I needed for a few days away. It's made from clear urethane and, unlike the sandwich bags I had been using for years, doesn't rip when you pull it in and out of your carry-on bag.
It includes a hook that tucks inside so that you can easily hang this in a bathroom. And, the band of cloth around the bag provides reinforcement and gives it a nice personal touch since you can choose from 5 colors.
Organizer pouches

Probably the most surprising Tom Bihn "find" for me were their clear organizer pouches. I wouldn't have expected to find so many uses for these little guys.
I've discovered that they are a great way to keep my receipts organized and to keep other items separated in my daybag. For example, I don't want my pens scratching up my cell phone, so all I need to do is slip them into a longer pouch, and the pens will stay in their own safe area.
This is all cool. Right? I'm a traveler. I like their stuff. That should be reason enough to talk about them.
But the story gets much better.
Not only are all Tom Bihn products manufactured in the U.S., with the exception of a couple of accessories that are made in Montana, all are made in Seattle! Yeah for Seattle!
The company takes the environment into consideration with all their manufacturing and shipping choices. Most of their fabrics are manufactured in the U.S. and their shipping boxes are made from recycled content.
But, wait, that's not all!
When I asked their V.P., Darcy Gray, if they would be interested in doing a giveaway at Wanderlust and Lipstick, Darcy responded immediately with an even better idea. Rather than a giveaway, Tom Binh is going to make a $200 donation to the International Federation of Red Cross/Red Crescent Societies' Haiti Relief Efforts in one lucky winner's name.
I know. You want cool stuff. But, really, how much more awesome is it to think that your name's going to be on a $200 donation to help those poor folks in Haiti? Me? I got all tingly when I read Darcy's offer.
This month there are a few ways to win and it only takes a moment.
1) Subscribe to the Wanderlust and Lipstick Newsletter during the month of February and you'll be automatically entered.
2) Subscribe to my RSS feed (at right) via email or in a reader. If you subscribe in a reader, leave me a comment below stating that you've subscribed. Please leave your email address (not made public) so that I can contact you if you're the winner. Check back here in early March to find out who the lucky one is. Winner will have 3 days to respond once being contacted.
3) If you're already both a newsletter subscriber AND an RSS subscriber, leave a comment below and tell me what one item you'd bring to Haiti to give to someone in need if you were to be magically placed there for a day.
If you're a complete newbie here, you can leave a comment with your Haiti item, subscribe to the newsletter and also the RSS feed for 3 chances to win!

This contest closes at 11:59 pm PST on February 28, 2010 and one lucky winner will be chosen on March 1, 2010.
Travel Well!
Beth
Related links:
Gear from XShot
Otterbox and Vemayca Cosmetic Bag
Ameribag Carry-all
Travel Gear Holiday Gift Guide
Stocking Stuffers for Women Travelers

Join other Wanderlusters and stay updated on travel-related items by subscribing via email or RSS feed.