Mountainsmith Clear Creek 20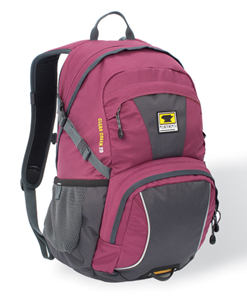 The Mountainsmith Clear Creek 20 daypack is a well-priced (under $50) bag that's equipped to carry most everything you'd need for a day out or for an extended trip. Bonus points for the fact that it's made from 100% recycled material – 13 sixteen-ounce bottles to be exact!
Though I was initially concerned about the quality of the material (with good reason it feels somewhat plastic-ish), I've come to completely trust it and have packed it full with my laptop, a couple of books, a bottle of water and snacks.
Available on Amazon for under $50
The features I find most useful are:
Airmesh back panel which provided a soft cushioning for me on a day hike
Wide side pockets that are perfect for a bottle of water on each side. Some bags make these mesh side pockets too narrow or too shallow, but these are just right
2 external pockets. I found the small top one perfect for my little digital camera. The larger lower one was great for pens, my cell phone and a small snack.
The sangria-colored bag (which I own) has shoulder harnesses that are ergonomically fitted for women
The sangria bag also has a yellow interior, making it easy to locate items
I'm not sure there's anything I would do to improve this bag. Maybe. One thing. And that is to allow the zippers to the main compartment to zip down just a bit farther to make it easier to pull items out. But that is such a nitpicky thing that it would never deter me from using the bag.
While I claim this as "my" bag, sometimes it's good to have a sherpa with you who can do the heavy lifting. In the photo above that's my sherpa carrying the bag while we were on the Napali Coast hiking on Kauai.
Available on Amazon for under $50
Related links:
Yoga Paws
Cocoon Travel Pillow
Guilty Travel Pleasures
Creature Comforts