Briggs and Riley Explore 22″ Upright Carry-on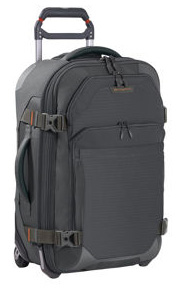 Earlier this year, Briggs & Riley launched their new BRX Adventure line of luggage. At first glance, I wouldn't have necessarily put the Explore 22″ Upright carry-on bag in the "adventure" travel category. After all, it IS a good looking, almost business-style bag. But, there are some features about this piece of luggage that definitely would appeal to the hardier traveler.
The first thing I noticed about the bag was how light it is. At just 7.5 pounds, it's definitely one of the (if not THE) lightest carry-on bags that I own. I've increasingly experienced airlines checking the weight of my carry-on (and forcing me to check it if it's overweight) so this has become an important feature for me to be aware of.
As a matter of fact, on my recent Qantas flight from LA to Brisbane (on my way to Papua New Guinea), I was forced to check my bag at the gate, and the Explore 22″ held up superbly well (no broken zippers or straps!).
There was plenty of room inside the bag for all my goodies because it features an exterior handle system (providing more room IN the bag). The main compartment even expands. Knowing that I was going to have to check my bag on my return Qantas flight, I bought some larger souvenirs (a mask and some wooden carved statues) and then stuffed the bag full for the flight home.
There are a couple of pockets on the outside where I could slip my boarding pass and snacks for easy access and the
straps on the side allowed me to tighten the bag, making it nice and tidy for the one Air Niugini flight where I was able to bring it on board. Two interior pockets also gave me a place to stash paperwork and some other items that I ended up not using on the trip and just wanted them out of the way.
Two things that could use some improving… The zippered interior pockets that are on the "lid" of the bag, get zipped open in such a way that everything falls out if you don't have the bag completely open with that lid lying flat (as is pictured above). This is an easy fix. If the zippers simply opened the other way, you could open the bag half way and unzip the pockets to extract your things and they wouldn't fall out.
The other thing I found a little odd was that the compression panel in the main section of the bag wasn't expandable. So, beyond a certain amount of clothes, you can't fit them underneath the compression panel. This is particularly strange given that the bag has a an expansion section – so you can add more items, you just can't compress them down.
Overall, this is an excellent bag. And, at $290 retail, comes in at just a few more bucks than the other top carry-on bags that I've tested and recommend.
And, even though this is a professional/business-looking bag, I still think it's great for the adventurer. It's super sturdy and has a lifetime warranty – so if it does break down during normal wear and tear, Briggs & Riley will replace it for ya.