Royal Robbins Crinkle Plaid Tank Top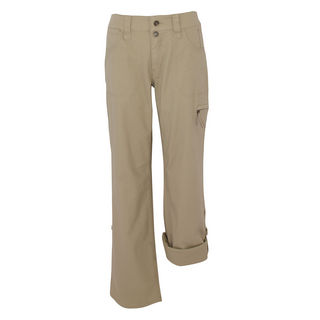 This month you can win a pair of women's Sidney Convertible Pants and a Crinkle Plaid tank top from Royal Robbins! Read on…
The folks at Royal Robbins (and yes, that's the name of the founder!), have the whole fashion/travel thing worked out. I stopped by their booth at the Outdoor Retailer show earlier this year (OK, truth be told – they offered free chai and espresso all day, so I stopped by their booth A LOT) and had a chance to take a peek at some of their stylish outfits.
The folks there were kind enough to let me test out a couple of items including the Sidney Convertible Pants, which go from full-length to capris, and their Crinkle Plaid Tank Top.
The pants make for a totally comfortable fit as they are made from a stretch canvas (great for when those buffets get the better of you!). And the style is trendy, with flare bottoms and a low cut waist. There are zippered pockets in the back and one on the side as well as two (somewhat shallow) pockets in the front. The cool feature, however, is that you have the ability to roll them up into capris, for those times you might be wading through a stream or you just need to cool off a bit.
They are made from a slightly heavier material than some travel pants so if you're headed into super hot weather, you might consider these for your flight and for cooler evenings.
And, when you ARE in super hot temps, you'll want to pack the Crinkle Plaid Tank Top. This all-cotton top has a textured pattern and is quite light. The shoulder material is wide enough to cover up your bra strap and the bottom is slightly flared, giving you a little breathing room and making it light and breezy.
It has a feminine cut which means that just when you are feeling like a tomboy in those easy-to-pack t-shirts and sporty travel outfits, you can reconnect with that girly side of you
This month Royal Robbins is allowing me to give away one each of the above items! One lucky winner will receive:
Sidney Convertible Pants
Crinkle Plaid Tank Top
Value: $110
You have two chances to win and it only takes a moment.
1) Subscribe to the Wanderlust and Lipstick Newsletter during the month of April and you'll be automatically entered.
2) Subscribe to my RSS feed (at right) via email or in a reader. If you subscribe in a reader, leave me a comment below stating that you've subscribed. Please leave your email address (not made public) so that I can contact you if you're the winner. Check back here in early May to find out who the lucky one is. Winner will have 3 days to respond once being contacted.
New to both? Subscribe to the newsletter and the RSS feed for 2 chances to win!

This contest closes at 11:59 pm PST on April 30, 2010 and one lucky winner will be chosen on May 1, 2010.
Please note that Royal Robbins is only able to ship to U.S. destinations.
Related links:
Guilty Travel Pleasures
Rough Guides
Overland Equipment Daybag
Creature Comforts
Join other Wanderlusters and stay updated on travel-related items by subscribing via email or RSS feed.