This I've got a couple of items that I might normally consider to be slightly indulgent but they are SO worth a mention. If you find yourself with a little extra space in your bag, you should definitely consider these for a little special comfort and pizzazz in your travels.
The Shoul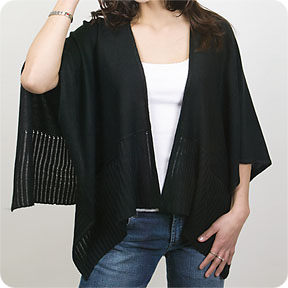 This is a soft-knit wrap that truly doubles as a travel blanket for cool-aired flights. It's small and thin enough that you can wear it under a jacket without it feeling too bulky or simply fold it up in your carry-on bag. It's also stylish enough that when you are at your destination, you can wear it out in the evenings. If you're traveling super light with just a few clothes, the Shoul will add a bit of variety and a classy touch to those few items that you've got with you.
Though it's not as long as a blanket and won't cover up your legs, it does a great job of keeping your upper body, arms and neck warm.
This is a one-size fits all wrap. The cashmere version comes in 9 colors and retails for $59 while the acrylic version comes in 7 colors and retails for $42.
Fit in Clouds
I recently traveled on a weekend getaway with the Fit in Clouds ballet-like slippers. I really wanted something to wear around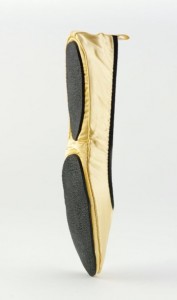 the lodge where we were staying but didn't want to pack my conventional slippers, which are rather bulky.
While Jon initially snickered at me when I wore them to the dining area for breakfast, he was soon jealous when he realized how comfortable I was just scooting around the place without having to put on my shoes!
These thin portable flats fit snuggly (almost like a sock) but have a thick rubber sole that adds a little protection and comfort to the soul of your foot. These would be perfect for long flights where you don't want to keep your shoes on the entire time, but need something on your feet when you go to the restroom or get up to stretch.
The bottom soul is created in such a way that it allows the Fit in Clouds to fold in half and carried in the small pouch that's provided. You can then just slip this into your daybag or purse.
These are available in several colors including black, royal gold and silver sequin and start at $18.95 (including shipping and handling).
Related links:
Washing and Drying Travel Options
Tom Bihn Gear – win $200 in your name for Haiti!
Gear from XShot
Otterbox and Vemayca Cosmetic Bag
Ameribag Carry-all

Join other Wanderlusters and stay updated on travel-related items by subscribing via email or RSS feed.