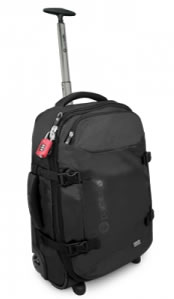 PacSafe, the folks known for their slashproof bags, recently came out with a line of luggage. I took the Toursafe 21″ to Berlin with me last week to give it a test drive.
Here's the verdict after this initial trip.
First, I was relieved that this was a 21″ bag and not 22″. (Most of my other carry-ons are 22″.) In Europe, many of the airlines restrict your luggage to 21″. And while no one checked my bag by slipping it into the metal rack that measures the size prior to going through security, I was happy that if they would have, the Toursafe would have passed the test. By the way, it might be good to note that it seemed like a 22″ bag would have fit just fine in the overhead bin on my Delta flights.
Though the photo here makes it look like the front has a hard case, it does not. It's soft-sided all around.
The main compartment features a drawstring compression section so that once you've belted down your items, you can further compress them with the drawstring. This, and the adjustable side straps, gave me a little extra room to add items on the return trip – as if it was an expandable bag.
As with all PacSafe products, the TourSafe has a number of safety features including:
Puncture-resistant zippers so no one can pry your bag open via the zipper
eXomesh slashproof protection so a would-be thief can't just slit your bag and empty it of its contents
Lockable zippers
The TourSafe comes in three sizes – 21″, 25″ and 29″ and three colors: black, red and steel blue.
What I Love
The size. While it's just a tad small for me to travel with for a trip that's more than a week (or when I have to have a wide variety of clothes), it was perfect for my six day trip to Berlin. The one-inch difference was just enough to make it seem more compact than my 22″ bags.
The pockets. There are enough pockets on the exterior and interior for me to get organized and tuck away everything I need for a trip. There's a very deep exterior zippered pocket that's good for paperwork (or a 13″ laptop, as the PacSafe website suggests). That zippered pocket also has a couple of pouches to slip items into that you might need to access easily (cell phone, snacks, etc.).
The zippers can easily be locked together for added security.
It's very steady when sitting upright, even when loaded with items. I've tested some bags that won't stand upright if they are too full.
Not So Much
The internal handle takes up precious space in the interior and it's impossible to lay your clothes or other items flat.
Because of the compression drawstrings and the adjustable straps on the outside, I had a false sense of how much I could stuff into the bag. Upon my return from Berlin, I nearly couldn't zipper the bag shut, returning with brochures from a trade show and a few gifts (um, chocolate).
Available on Amazon for about $220.
Here's how I packed for Berlin:
First my shoes get stuffed with underwear and other items so I could make the best use of space.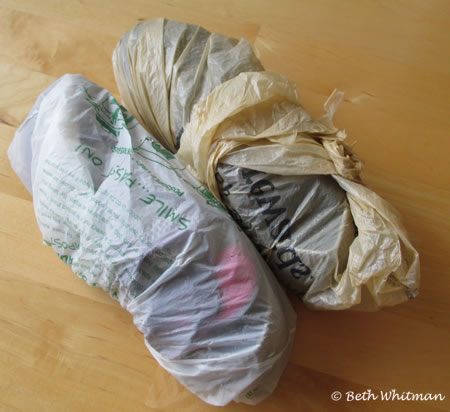 I then wrapped them up in plastic bags so they didn't get other items dirty.
I then pack my clothes in a compression sac which squeezes the air out and squashes everything down to about 1/3 the size.
To make the most use of space, I packed some snacks on the bottom of the bag where there are indentations. The handle runs through the middle leaving space on either side.
I then laid the compression sac full of clothes down on the bottom of the bag.
My padded packing cube held some electronics and other items that I didn't want floating around in the bag.
I tossed in a few more items (in addition to the packing cube) including a toiletry bag, some more food (oatmeal) and my laptop power cord, and I was good to go. I used the drawstring to cinch down the Toursafe which helped to compact some of the items even more.
Voila! The bag was ready to go. My daybag (from Briggs & Riley) was nearly as heavy as the Toursafe because it held my laptop and some books.
The Toursafe is definitely a great bag for those who can pack light on a longer journey or for someone traveling for about a week.
Travel Well,
Beth