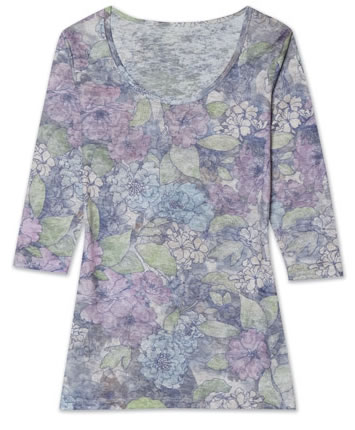 I love this style that's come in fashion over the last five or six years. Described by Aventura as "burnout," it's that washed-out print look. You know, the flowery, flowing tops that so many young-at-heart women are wearing.
Even though temps are rising, the Aventura Nyla Tee, with its 3/4 sleeve, is still appropriate for summer because it's incredibly lightweight. The fabric itself is semi-sheer (not see-through, but definitely light) and made of a cotton/polyester blend (don't let it go through the dryer unless you've got some room for shrinkage).
This top fits relatively snug in this slim-fit style.
Because of its light weight, it packs down very easily. And with the flowery design, you don't have to worry as much about it getting dirty as it won't show a bit of dust or dirt. In other words, it's appropriate for travel.
For the record, I'm a fan of Aventura because more than 80% of their clothing is made of environmentally-friendly fabrics such as bamboo and organic cotton. Nice touch.
What I Love
The print itself. It satisfies my need for purple 🙂
The lightweight material means even in the summer I can get away with wearing this on cool nights
The scoop neck makes for a lovely feminine fit
Not So Much
The only thing I might change on this is that the bottom is a tad longer and more flowing than I might design for myself
Buy it now and you'll be able to wear it on cool summer evenings as well as throughout the fall. Available for $52 on the Aventura site.
Travel Well,
Beth