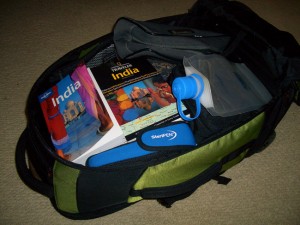 My regular readers know that I never check a bag on my way TO my destination (the return trip's different as I may have a bag of souvenirs). But for those of you new to Wanderlust and Lipstick and my philosophy of packing light, you might be wondering how a gal could ever fit everything into one carry-on bag for a week-long trip, let alone for a month-long or year-long journey.
It's really not that hard.
First, you have to realize that if you can pack a bag for a one-week trip, you can pack one bag for a one-year trip. I'm talking vacation travel here. Not a business trip where you might be required to wear a variety of clothes over a couple of weeks (though I'd argue that people will care far less than you realize if you wear the same outfit twice) or an adventure trip where special gear, such as a tent, is required. We're talking 3 weeks in Southeast Asia. Or  8 weeks in South America. Or 6 months in Europe.
The key is that you have to have the right bag. Choose one that's 22 inches or smaller as this is the maximum that MOST airlines will allow as a carry-on. I wrote about a variety of bags not too long ago and shared my faves. Whether it's a backpack, a roll-aboard or a combination, this will be large enough for you to carry all you need.
Next, you have to get over the mindset that you have to carry your closet of clothes with you. Dress simply and utilize accessories (simple jewelry, a scarf, a hat) and you'll feel like you're wearing a variety of outfits. I taught a workshop once where a gal told me she brought 14 pairs of jeans on a two-week trip to Paris when she was visiting her daughter. Perhaps she didn't think they had Laundromats there. Sure, 14 pairs of pants is an extreme example but do you really need more than 2? One to wear and one to pack, that's what I say.
Contrary to popular belief, toiletries ARE available around the world. Though a local pharmacy may not stock my favorite shampoo, conditioner or lotion, I can make do without my favorite toiletries while I travel. I carry 3-ounce bottles of shampoo and conditioner and, because I don't wash my hair ever day (what?), I can make this stretch for a month. Believe me, I've done it – even in India where my hair can get thick with dust in just a day. If I do happen to run out, I buy a small bottle of whatever I need to replace and either leave it behind in my hotel on the last day of travel or pack it in a checked bag of souvenirs for that return flight.
I often get asked about what shoes to pack and I find that both women and men find these the hardest items to figure out for a trip. Depending on the weather at your destination and the type of activities you'll be involved in, this can be a conundrum. Because I often travel to warm places, I tend to pack a pair of sandals and then wear a pair of walking shoes on the flight.  On my most recent trip to Bhutan, one of the gals on my tour brought only one pair – a pair of Keen sandals. On cool days, she wore socks but otherwise just enjoyed wearing these comfy sandals and loved not having to deal with an additional pair of shoes.
Here's a little slideshow of some packing pics I took for a recent 3 week trip to Bangkok and Bhutan. Not ALL of my clothes are shown here (for some reason I forgot to include my pants and shorts :-)Â  but I DID wear some!). This will at least give you a good idea as to how I've managed to pack light.
(By the way, this is the first time I'm using Smilebox – bear with me… not sure I like it but wanted to test it out.)
In these slides, I show my PJ's, a couple of tops, Teva sandals, my electronics which I keep in a padded Eagle Creek padded bag and my toiletry bag. Toss in a couple of pairs of underwear (yes, I bring only 2 quick drying pairs from ExOfficio that I alternate washing nightly), some pants, a book (or my Sony eReader), gifts for my host and I'm pretty much ready to go.
Would love to hear your tips and experiences.
By the way, YES, those are marshmallows in my bag. I carried them to Bhutan and on the last night of our trip, we cooked S'mores. I'm certain it was a first for the Bhutanese and everyone loved this little treat at the end of a wonderful journey.
Travel Well,
Beth
Related links:
Peanut Butter is Spreadable
How Not to be a Trashy Tourist
Tips for Reverse Culture Shock
Using Your Cell Phone Abroad: A Primer
Booking Advice in Today's Climate
Understanding Travel Insurance
Join other Wanderlusters and stay updated on travel-related items by subscribing via email or RSS feed.