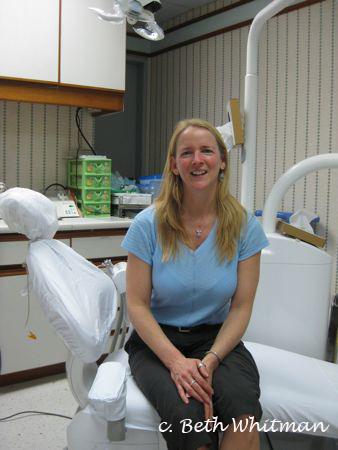 When I planned my April trip to Bhutan, I flew through Bangkok and factored in a couple of extra days in that city so that I could get a little dental work done. I knew that it was time for a cleaning (my dentist in Seattle kept reminding me of that) and I knew I needed a crown to replace a temporary filling that I had, oh, let's just say for far longer than any "temporary" filling should be in anyone's mouth.
In looking for recommendations for a reputable dentist, I asked around on Twitter and searched the Lonely Planet forums. All roads led to Bumrungrad International in Bangkok, a full service hospital with a dental clinic (as well as many other specialty clinics). Though there were some complaints on the LP site that the clinic was slow in responding and sending confirmations via email once appointments were requested, they were quite prompt in responding to me and very professional, providing all information upfront, including costs.
I had read that this hospital serves more than 1,000 foreigners a day from 190 countries. I figured with a reputation like that it must be good. But I wasn't expecting the first class facilities and service.
I scheduled my cleaning for early in the morning with a follow up appointment in the afternoon for the crown preparation. I wanted to check out the vibe during the cleaning before making a bigger commitment to the more complicated work. I was surprised at how modern and beautiful the facilities were – FAR nicer than any other hospital I've ever been in. The dental clinic waiting room ran like clockwork with the gals working in the office well trained in what they were doing.
The front desk in the lobby of Bumrungrad International Bangkok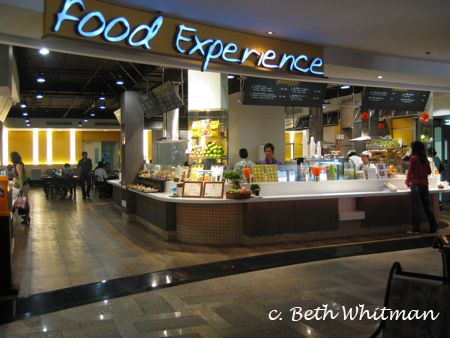 Hospital food never looked so good! Food court at Bumrungrad.
The dental hygienist was a sweetheart (as are most Thais I've ever encountered) and provided a gentle but thorough cleaning, for about $45.
I had the crown done over several days. I started with an initial consultation and then the prep work with a temporary crown added prior to my leaving for Bhutan. Upon returning 12 days later, I went back for the actual crown. Everything was seamless. The crown, including a filling and dental exam cost less than $600. It would have cost me nearly $2,000 to have this work done in the U.S. This savings more than paid for my roundtrip plane ticket to Bangkok.
If you're looking for dental work while you're in Bangkok, I highly recommend Bumrungrad. When you make your appointment, you can request specific doctors. I used the services of Dr. Kultip Kulapong for the cleaning and Dr. Naiyana Vivatpattanakul for the crown. Both are highly capable and are sure to serve you well in whatever your needs are.
It's worth noting that Bumrungrad is centrally located in the Sukhumvit neighborhood. I hadn't planned it this way, but I was staying at the Amari Boulevard Hotel, just a couple of blocks away from the hospital so I could just walk to it.
Travel Well,
Beth
Related links:
Medical Tourism: Stem Cell Policy
Understanding Travel Insurance
How Not to be a Trashy Tourist
Tips for Reverse Culture Shock
Using Your Cell Phone Abroad: A Primer
Booking Advice in Today's Climate
Join other Wanderlusters and stay updated on travel-related items by subscribing via email or RSS feed.