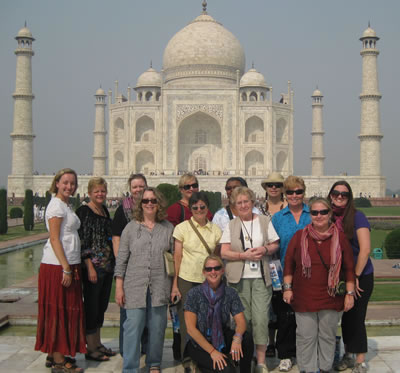 There's been a lot of news coming out of India of late. And it hasn't been good.
Sadly, there's been a spate of high-profile gang rapes against both Indian and foreign women in the last eight months or so. The most recent one was just last week when a California woman was raped when she hitched a ride with a truck driver late at night (she was unable to find a taxi).
As a result of these tragic events, it's been reported that 35% less women are traveling to India and tourism overall is down by 25%.
Just yesterday I received a call from a reporter at the Sunday Times of London about how safe India is for women travelers. It's a good question: Is India safe for women travelers?
My take? Absolutely it is. As long as you take the same safety precautions you would take traveling to any other destination.
As I told the reporter, while these events are tragic, they are isolated incidences that are (rightly so) getting a tremendous amount of attention from the media. And it's about time. Rape in India is not new (nor is it unique to India) but it's been under-reported in the country up until now – whether the victim is Indian or foreign, in the past both seemed to get equally ignored.
But the truth is that the likelihood of something happening to a woman traveling in India is quite low. In my experience, India tends to be a country where opportunistic thievery and groping (unacceptable but not rape) are more common than violent, aggressive behavior (with guns or
knives drawn) against tourists. That doesn't make these lower level crimes OK, but what's being reported is that India is not safe for women. Period. And that's just not the case.
As my dear friend in the India/travel world, Mariellen Ward, pointed out in her article on this very topic, India does not come close to ranking high in terms of the number of reported rapes in the world (that distinction is held by South Africa where a woman is raped every 17 seconds!).
Having traveled there a half dozen times myself, I've never had so much as a pen stolen. But I'm hyper-alert to my surroundings, I protect my personal belongings and myself at all times, and am overly cautious about going out on my own (especially at night).
Though they are absolutely tragic, the fact that these rapes in India are finally being reported is a great thing. Previously, I had only heard rumors and friend-of-a-friend stories about attacks against foreign women but could never find actual reports about these stories to confirm what I'd heard.
And just because these are finally being reported in the news, that doesn't mean you shouldn't go to India. It's just a good reminder to take certain precautions when you do go.
India is a vibrant, fabulous, beautiful country filled with warm-hearted, gentle, and generous people. Yes, it's also challenging. But your decision on whether to visit should not be based on media reports on a few high-profile incidents. Go see for yourself and…
…here's what you can do to stay safe in India (and beyond):
Don't travel or even wander the streets at night by yourself.
Don't ever open your hotel room door to a stranger. And even in the case of a hotel employee (a repairman or housekeeper, for example) either leave your door open step out of the room while he is in there. You might seem rude in doing so, but it's better than the possible alternative.
Wear conservative clothing. Even baring your shoulders and knees can cause unwanted attention in India and many other conservative countries.
Never take a taxi at night by yourself. Most taxi drivers double up with a friend traveling with them – don't put yourself in this situation.
When traveling on crowded public transportation, try to board last so that you can be close to the exit. Keep your back to the door so that you are facing everyone on the bus or train and always keep your personal belongings where you can see them and with the handles tightly secured around your wrists.
Carry a cable lock to secure your luggage when taking an overnight train or bus. This simple measure will prevent someone from grabbing your bag while you're sleeping.
Lock the zippers of your luggage together so that someone can't easily open it and grab the contents.
Choose bags made with security protection, like those from PacSafe, where slashproof handles and protected zippers prevent thieves from getting your goods.
Also, check out Dianne Sharma Winter's tips for staying safe and sane in India. She's lived there for nearly 20 years so she's able to offer up some sage advice.
Boy, I could go on. But you get the idea. While there are a lot of things you do need to be aware of when you're traveling (whether to India or to somewhere closer to home), these things will eventually become second nature to you.
What do you do to stay safe during your travels?
Travel Well,
Beth
Related links:
North India Women-only Tour
South India Women-only Tour