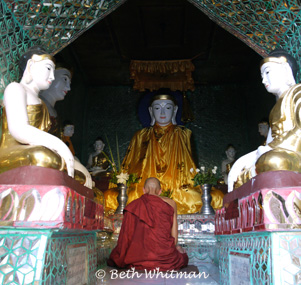 Sitting atop a hill, Shwedagon Pagoda and its golden gilded stupa, can be seen from many locations around Yangon. By some accounts, this revered Buddhist site is the oldest pagoda in the world at 2,600 years (other accounts put it at 1,000 – 1,400 years old).
The pagoda enshrines eight hairs from Gautama Buddha and it's believed that when the casket carrying the these hairs was opened, miracles happened – the blind could see, the deaf could hear and gems rained down from the sky (oh, to have seen that!).
Needless to say, this is a pilgrimage site for Buddhists from around Myanmar and the world.
Walking around the pagoda, you'll see Buddha statues in varying positions – including the reclining and sitting Buddhas above.
Worshippers spend time making offerings at the many altars found throughout the complex.
Even with the increasing number of Myanmarese and tourists visiting Shwedagon, it is a quiet haven that's set away from the traffic that has become all too common in Yangon. As the government slowly opens to the outside world and the Myanmarese are able to travel more easily due to both economic improvements and an increase in their individual freedoms, it's likely that the Shwedagon is going to see a huge increase in visitors in the coming years.
Go now 🙂
Travel Well,
Beth
Related links:
Burma Photos – Temples
Burma Photos – People
Burma Photos – Food