Lowland Gorilla Safari
Leslie Nevison, owner and operator of Mama Tembo Tours, has room for two travelers to round out a group of eight for a 12-day lowland gorilla safari to Nouabale-Ndoki National Park (NNNP) in the Republic of Congo and Dzangha-Sangha National Park (DSNP) in the Central African Republic.
Male lowland gorilla 
The tropical forests of these two Congo River Basin parks comprise the world's largest rainforests after those of the Amazon Basin. Dzanga-Ndoki National Park is the ancestral home of Ba'Aka pygmies who have helped establish its current tourism program. The park shelters diverse wildlife such as forest elephants, lowland gorillas, buffaloes, sitatunga and bongo antelopes, warthogs, numerous monkey species, leopards and a long list of endemic birds, which can be viewed from platform hides built above natural mineral clearings in the forests called baïs or salines. Nowhere else in Central Africa do you have such a high probability of seeing all this wildlife in one place.
Nouabale-Ndoki National Park offers similar attractions to DSNP but with one important distinction: its forests are pristine. They have never been logged. They are surrounded by swamps which make it difficult for poachers to access the forest for its trees and for the wildlife it protects.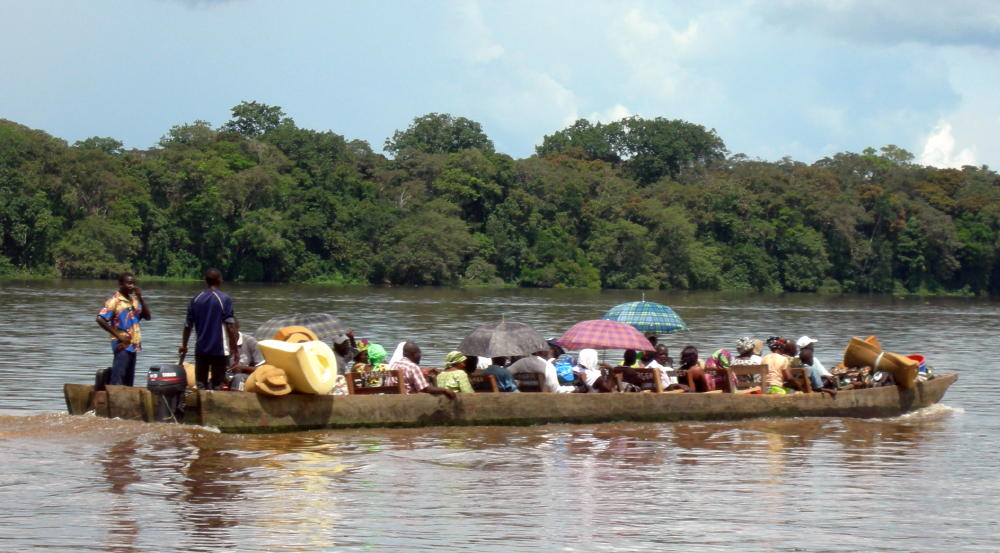 Local transport in Congo
The principal activity of NNNP is wildlife observation at Mbeli Bai Camp. The lowland gorillas feed on a fruit here unique to this forest clearing. Mbeli Bai is also known for its sightings of forest elephants, sitatunga antelope, buffalo, red river hogs, otters, and crocodiles. Recently opened Mondika Camp is the best place to track on foot to observe in the wild a family of 12 habituated lowland gorillas.
Wading in flooded forest 
This is challenging travel. Participants must be physically fit: We hike into camps; wade through flooded forest; and track gorillas through heavy vegetation. Guests must be prepared to accept the discomfort of long boat rides and bumpy roads in a 4 x 4; no-frills accommodations and food; a hot climate; and possible travel delays—in other words, all the unexpected events (and joys) of travel in the developing world that is arguably even more acute here. Come with patience, an open mind and a love of adventure. The reward is entry to what National Geographic photographer Michael Nicholls has called Nouabale-Ndoki National Park—"The last place on earth."
The safari begins and ends in Brazzaville, Republic of Congo, where Leslie is currently living. Dates: Oct 21 to Nov 01, 2008.
Cost: E 4550 (Please note that the cost is in EUROS  due to the unstable dollar and the fact that in French Africa, the euro is the preferred currency.)
Please email Leslie for additional information and to place a deposit for this trip:
leslienevison at gmail dot com