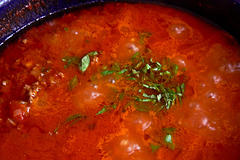 When a colleague turned me on to Garofalo's schiaffoni pasta as something to try out, I thought, how different can it be? In a word? Hearty. Even at a full 15 minutes in boiling water, this stuff was just reaching al dente. While the recommended sauce pairing was a tomato basil, I took one look at the size and shape of the noodles and knew it was going to require something way more hard core.
My answer?  A heavy meat-based vodka sauce with crushed tomatoes, olive oil and a liberal dose of Italian seasoning. Basically the kind of sauce you can eyeball, but if you need the full specifics, here's a link. Just scroll down to the bottom of the article.  I also served a homemade rosemary-thyme seasoned batter bread with a bottle of Our Daily Red, a decent organic wine we drink a few times per week. 
Between dinner and desert, we could barely walk. I'm telling you, this schiaffoni is certainly not for the faint of pasta heart. My husband's just about the most hard core spaghetti fan I know and usually has no problem inhaling a couple or three plates of even the heaviest pasta dinner. He was hard pressed to finish plate one, even as much as he loved it.
The oval shaped tubes are already quite large, and cooking of course enlarges them a fair bit. We ended up with individual noodles that were about the size of traditional raviolis only much sturdier as I mentioned. Yummy for sure, and definitely for the heartier sauce recipes in your repertoire. So the next time you're having some serious eaters over for dinner and want to make sure you're on your A-game,  try out the schiaffoni. They'll notice for sure.
Flickr Photo Credit: Sa_Ku_Ra