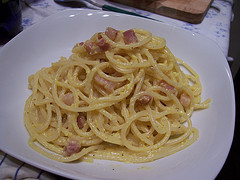 I admit it. I'm an Italian food groupie. So whenever I can incorporate the flavors of the country I love with time saving simplicity, I go for it. Such is the case with this super simple carbonara.
What you need:
1 pound of spaghetti, a handful or two of minced left over cooked ham, olive oil, minced garlic, three large eggs, one cup of grated Parmesan cheese from the pasta aisle, one quarter cup of skim milk. (I use premixed powdered to save pennies. It works fine.) Optional: chopped scallions, chives or parsley and shaved curls of aged Asiago.
What you do: In a separate pan (with fairly steep sides), heat up olive oil, garlic and minced ham pieces. Put the one pound of pasta in to boil for about eight minutes. (If you like it slightly al dente.) In the meantime, crack the three eggs into a container and whisk briskly with a fork. Add in the one cup of grated Parmesan and continue to mix thoroughly, adding the skim milk as you go. Set the mixture aside. When the pasta is finished, drain and transfer to the ham, oil and garlic pan immediately. Start stirring with your pasta server and dump in the beaten egg / cheese / milk mixture. Then grab a spoon for your other hand and start tossing the mixture to coat the pasta and cook the eggs from the heat of the noodles. Your ham, oil and garlic will get distributed as well. Serve on a plate and top with chopped herbs and a few shaved curls of a higher end cheese to sex it up if you so choose.
Pasta selected: I used Garofalo. It worked really well, and held up to the tossing and the sauce pairing.  Serve with a salad, crusty bread and a nice bottle of wine. Romance on a dime!
Related Readings: Check out this list of cooked ham recipes.
Photo Credit: Inga Beretta