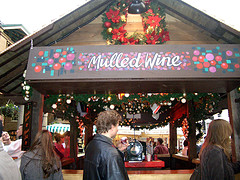 You have to admit, nothing beats the experience of wandering the Christmas markets of Europe and stopping for traditional mulled wine. Here's a very affordable and easy way to enjoy a similar experience in your own home.
First, if you don't already have one, get a crock pot. Next, select a bargain brand boxed wine of either red or white. Mulled wine is like sangria. Nobody expects you to use the good stuff.
Additionally, you'll need at least 3/4 of a cup of sugar, one orange, one lemon (optional), 1-3 cinnamon sticks (you could also substitute several shakes of ground cinnamon) and a few shakes of ground cloves. Slice up the orange in round sections and put in the bottom of the crock pot along with the cinnamon, cloves and sugar. You can use more sugar or less, depending on the size of the slow cooker you are using. Add the boxed wine until just below the top of the crock and cover. Turn on low for 3-6 hours, or until heated through and smelling oh-so-fabulous. Ladle out into mugs and enjoy.
We used to make this stuff all the time when we lived in Italy. It's nice to have on hand at the end of a long day, or for unexpected guests.
Related Reading: Romance and Family fun in Bolzano, Italy
Photo Credits: Misbehave
and Gia_S' Photos.