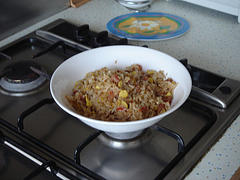 This is still one of my favorites fourteen years after I first had it. Picture everything you like about fried rice, only with ham and eggs instead of pork and Chinese vegetables. Here's what you need:
Leftover rice from dinner the night before, cut up  ham, a little oil to fry in, scrambled eggs, sliced green onions (or regular onions if pennies are tight), a few pieces of minced carrots (optional).
Toss it all together in the frying pan and cook like you would fried rice. To be authentically Guamanian, you really need to have Tobasco available. I go nuts with this stuff, but not everyone likes spicy food. Personally, every time I make this dish I get rave reviews. It's one of several cooked ham recipes I use to keep us on budget. Several of us who taught together on Guam back then have kept in touch. We all love it, and my husband thinks it's the greatest thing since sliced bread. Try it out! I'm sure you'll like it too.
Related Readings for Warm Weather Food: Summer Menu Plans, 12 Cheap Pineapple Recipes, Backyard Barbecues on a Budget and Ideas for a Summer Cocktail Party.
Photo Credit: The Project Clerk