Making friends and seeing ballet with princesses in Madrid
Any proper weekend duchess tour of Europe simply must include a palace or two, and El Escorial, just outside of Madrid, checks off all the regal requirements: lush decorations, beautiful location, and easy to find. I ended up with a surprise tour guide, as I met a woman named Anita from Argentina while we were both waiting for the train from Madrid, studying our guide books and frowning confusedly at the changing times and tracks for the trains.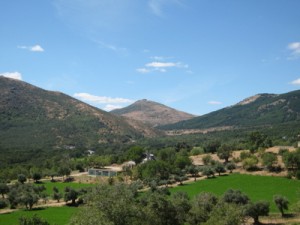 I'm generally an independent traveler, but I'm not completely antisocial, and it had been a few days since anyone had said anything more substantial to me than "Compro oro!" in Madrid, so I was ready for a day with a buddy.  However, Anita seemed to view my lack of Spanish as a form of mental disability, and she very painstakingly translated every exhibit caption for me, whether I wanted her to or not. The palace itself is huge, with gardens, an art gallery, an architecture museum, a crypt containing the "Pantheon of Kings," and a massive "Hall of Battles," featuring paintings detailing the history of Spain's military successes.
In the parlance of the commonfolk, the "money shot" of the museum has to be the library, surprisingly enough. I can't imagine anyone getting any reading done in this salon, with the colorful, golden ceiling frescoes depicting the liberal arts, and the overwhelming distraction of the 40,000 volumes of books. How do you choose one book out of 40,000?!
At about 2 p.m., I realized I hadn't eaten anything, and Anita's detailed tour of El Escorial was giving me a headache. Much to her dismay, I left the palace to have lunch in one of the cliffside restaurants. All I remember is that there was a lot of octopus, and it was one of my favorite meals in Spain. Sitting outside, overlooking the palace and the countryside, free of Anita's running commentary… the chef came out to ask how I liked the meal, and he seemed very pleased with my happy response.
I managed to make it back to Madrid that evening in time to attend the ballet. My favorite ballet dancer, Angel Corella, is from Madrid, and his company was performing Swan Lake that night. After checking to make sure that I wasn't flashing anything inappropriate, I realized that the hushed whispers around me were actually responding to an attractive woman and her two daughters, seated a few rows behind me in the orchestra. After the usher refused to identify them, under some mysterious ethical usher code of silence, the cute little old ladies next to me let me know that they were real life princesses!  Apparently the mother's name is Letizia.
At the end of the performance, everyone yelled enthusiastically for their hometown boy, Angel, and I let out a few cheers, as one does when he performs at the Metropolitan Opera House in New York. Well, my new little elderly friends were quick to chastise me, saying "No 'Whoo!'" My elegant international response of "Huh?" garnered the further explanation "In Espana, no 'Whoo!' Only 'Bravo!"" So then, I flapped my fan, joined the chorus of "Bravo!" and my seatmates smiled proudly at their tall, blonde converted senorita.
After the ballet, we all walked the princesses back to their palace (hey, it was on the way), and I strolled back through the length of the small, vibrant city, feeling a little more at home and at the same time, ready to move on from yet another excellent weekend duchess adventure.
1 comment