Secrets for Valentine Cupcakes You'll Adore
With Valentine's Day just around the corner, it reminded me that it was time to get my baking supplies ordered so that I have them on hand for the baking extravaganza that proceeds the 14th of February. For many years, I have baked to commemorate special days throughout the year. Managers at my business, select the dessert of their choice for their birthday to be created by yours truly. Every year for Christmas, I bring a giant trifle to my family's gathering. And for Valentine's Day, I always make red velvet cupcakes. If we were to look back of the list of professions I aspired to when I was a child, right next to Egyptologist would be cake decorator/pastry chef. For me, baking for others is a way to show affection and that's what Valentine's Day is all about, right? At this end of this post, I will share with you my much requested Red Velvet Cupcake recipe.
Valentine's Day is also known as the Feast of Saint Valentine which is celebrated in many countries around the world. One of the favorite tales associated with St. Valentine is that he performed weddings for soldiers who had been forbidden to marry and that had landed him in jail. The Roman empire believed that soldiers would fight harder if they had nothing to go back to and were thus not allowed to get married. You can see how he became seen as a champion of love. I'll even take it a step further and suggest that he was also a champion of cupcakes! Between his holiday being a "Feast" and with weddings always featuring cakes…..well, I'll just let you complete that circle on your own!
In my years as a WanderShopper, I seem to return to one baking source in particular for many of my supplies and that is King Arthur Flour in Norwich, Vermont. You could easily make them a single stop for all of your baking needs. They have items for a beginner with exceptionally high quality mixes. They also have products for a more advanced baker with an amazing selection of flours, chocolates and all the specialty pans you have every dreamed of. Want to bake like your in a French boulangerie? King Arthur has everything you need. Watching your diet but still craving doughnuts? King Arthur can set you up with doughnut pans and a mix to bake in your oven and cut out all the fat from frying. King Arthur Flour really is a wonderland that you should consider exploring either online or through one of their inspiring catalogs.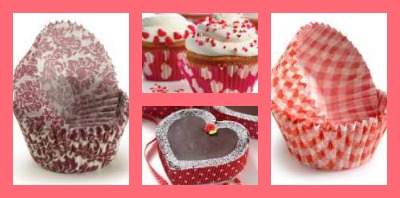 For today's post, I will constrain myself to their supplies you could use for making cupcakes. The first thing you will need is your vessel. In a cupcake's case, that means the wrapper. I am suggesting for you two traditional cupcake wrappers. I really like the Damask Burgundy Cupcake Papers for a refined upscale look. Feeling a little more country? Maybe select the Red Gingham Cupcake Papers. Another set has Hot Pink Hearts on a field of red. I think all of them would be a good choice. If you want to fancy things up a bit, you might also consider picking up a set of Tulip Papers. Made with a much higher profile than your usual wrappers, the edges create the look of tulip petals around your cupcake for a bit of drama  and make your creation look like it was made in a professional bakery. The last vehicle for your cupcake I suggest is the Red Heart Shaped Bakeable Paper Pan. It is built to stand up on its own and hold its shape while it bakes your cupcake in the shape of a heart. The exterior is also decorated with white hearts on a red field. I think these would make a pretty dessert after a romantic dinner for two. I would suggest watching your baking time closely as I imagine it will take less time than an ordinary cupcake as it is a more shallow container. You can always bake longer if you need to but you can never un-bake something. Stick a toothpick in the center about half way through the time indicated and once you pull out the toothpick with no batter adhering to it, you will know your cupcake is done.

King Arthur Flour  is offering a device I am really excited to try sometime. They have a Cupcake Corer that will allow you to create a hole in the center of your cupcake for adding a filling. You could insert a cream into a chocolate cupcake and recreate the recently demised King Dong. You could also add in the favorite pudding of your choice or spoon in some fruit pie filling, like cherry. I also think it would be delicious to place a small scoop of your favorite ice cream inside. You could then decorate the top and return the whole cupcake to the freezer. Later add some hot fudge and whipped cream and you would have a cupcake sundae. The more I think, the more ideas I have. Caramel, nuts, marzipan, a contrasting flavor of cupcake, a piece of candy like a rolo….. I think you get the idea. Make your cupcake your own and everyone will look at you like you are brilliant. Only you and I will know how easy this was to do! Bake away, WanderShoppers, and let me know what you came up with!
Once you have your cupcakes baked and frosted, it is now
time to add the flourish
.
King Arthur Flour
offers many choices to add that
professional finish
to your bake goods without having to be a master of a pastry bag. In my mind,
sprinkles are the way to go
. Whether you add a little or a lot, they give you the splash of color that will get your cupcakes chosen first off the dessert table at the potluck every time. First up is a bottle of
Decorative Sugars, the Heart Decos
set that give you options. It contains three little bottles – one of mini pink, white and red hearts, the second with white pearls and the third with larger scale red hearts. By having a set of three, you can use them to vary your decorations, use different ones to signify different flavors or just go to town and add a little of each one on every cupcake. I also liked that they had a separate container for sale just of
Small Sugar Hearts
. These would look pretty against chocolate or vanilla frosting so you can't go wrong.
My other favorite source for decorating supplies is Fancy Flours. I love to pour through their catalog when it arrives. They have so many fun decorations for every holiday and celebration you can think of. Fancy Flours also has a lot of beautiful options for packaging when your bake goods will be given as gifts. We will begin with the cupcake wrappers again. I liked two of the kits they are offering for Valentine's Day. The first one, Love Talk Cupcake kit, include both the liners you need for baking your cupcakes as well as coordinating decorator picks you can stick in the top of your cupcake after you have frosted it. The other kit I liked is the Sweet Love Cupcake Liners. One design has fanciful birds delivering a valentine while the other design has red hearts and a ribbon banner with "love" written on it.
Fancy Flours has some pretty decorations for the top of your cupcakes. Two offerings really stood out for me. The first are Edible Sugar Hearts in a variety of colors. They are faceted to look like heart shaped jewels and would be a pretty centerpiece to each cupcake. A border of "pearls" around the rim of each cupcake would complete the jewel theme. Fancy Flours also offers Sprinkles Chocolate Heart Mix. If you are making cupcakes for a chocoholic, why not go over the top and have the decorations on the cupcake me chocolate too?!
Some of you may be baking your cupcakes for your family or to take to work, like me. Some of you may be making your special creations to gift to your favorite Valentine. If that's the case, you will want to complete your gift with beautiful packaging. Fancy Flours offers both single or four cupcake boxes in the Sweet Love Design that will match the liners I recommended above. Each box has a sweet little window so someone can peek in and glimpse the treat inside. The roof of the little boxes is tied together with a pink ribbon. Who wouldn't love to receive this as a gift?!
And now, patient readers, it is time for the promised Red Velvet Cupcake recipe. As I mentioned, I really wanted to be a pastry chef at one time in my life. And any serious chef is going to make her creations from scratch. Year's ago, I came across a recipe that started with a cake mix. The idea being, that if you add a few right things to a mix to doctorate it up, it saves you the time from doing everything from scratch. For a few years, I went back and forth  between making my Red Velvet Cupcakes entirely from scratch or using the short-cut recipe. Without explaining the difference, my co-workers picked the doctored-up mix version, so that's what I will share with you now. It saves me some time and people like it a lot so why fight it, right? Please enjoy the recipe below:
Red Velvet Cupcakes
1 pkg. white cake mix (I choose one with pudding for extra moistness)
2 squares Baker's Unsweetened Baking Chocolate (get the kind you can just squeeze out so you don't have to melt it!)
1 Tbsp. red food coloring
Prepare the cake mix as directed on the package, adding in the chocolate and the red food coloring along with the amounts of water, eggs and oil given on the package.( I recommend that you really mash out all the dried balls in the mix before you add any of the wet ingredients so that the "white" disappears as you mix the batter. Nothing gives away that you are using a mix like white spots in your cupcakes where the mix clumped together!)  Bake as directed on the package for cupcakes.
Cream Cheese Frosting
1 pkg. (8 oz.) Cream Cheese, softened
1/2 cup (1 stick) butter, melted
1 pkg. (16 oz.) powdered sugar (about 4 cups)
Beat the cream cheese and butter together with a mixer on medium speed until well blended. Gradually add the sugar, beating well after each addition.
Once cupcakes have cooled completely, frost generously with the cream cheese mixture. Decorate with your chosen sprinkles or colored sugars. Have extra frosting? Smear between graham crackers and freeze for a yummy cold treat.
What is your favorite Valentine's treat?
Photo credits: Images of products from King Arthur Flour and Fancy Flours
2 comments