Brunch. A wonderful hybrid of breakfast and lunch. It's as much of an Easter tradition as egg hunts, bonnets, and Sunday church service for lapsed Catholics. After all, who doesn't love a mouth-watering meal filled with crepes, ham, lamb, Hollandaise sauce, deviled eggs, pavlova, and a virtual cornucopia of delectable eats?
But probably my favorite thing about brunch, whether for Easter or just about any day, is…you guessed it…cocktails. No one even looks twice when you imbibe during brunch. Breakfast, well, that's a whole other story. But having a cocktail during brunch is acceptable, even encouraged. From the standby screwdriver and mimosa to some downright creative meals-in-themselves Bloody Marys and Bloody Ceasars (Marys made with Clamato instead of straight tomato juice), brunch has evolved into a perfect excuse for some respectable day drinking.
To help you add some sparkle and creativity to your Easter brunch, I've selected an assortment of cocktail recipes sure to please everyone at your table.
LAVENDER LEMONADE MARTINI
Recipe and photo courtesy of The Circular at The Hotel Hershey in Pennsylvania
2 oz. Grey Goose vodka
½ oz. lemon juice
1 oz. simple syrup
3 oz. lavender tea
Lavender-colored sugar
Lavender sprig
Rim martini glass with lavender-colored sugar. Mix ingredients in a cocktail shaker with ice. Shake until cold. Pour into sugar-rimmed glass. Garnish with lavender sprig.
EASTER BONNET

Recipe and photo courtesy of
CAMUS Cognac
1½ oz. CAMUS VS Elegance
¼ oz. pomegranate syrup
1 oz. cranberry juice
3 fresh strawberries
Muddle strawberries and liquids in a cocktail shaker. Add ice to fill shaker. Shake vigorously. Strain into a martini glass. Garnish with a rose.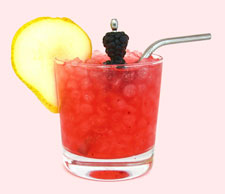 BERENTZEN PEAR BRAMBLE
Recipe and photo courtesy of Berentzen USA
1 oz. Berentzen Pear
1 oz. gin
¾ oz. lemon juice
¾ oz. simple syrup
4 blackberries
1 slice pear
Muddle 3 blackberries in mixing glass. Add Berentzen Pear, gin, lemon juice, and simple syrup. Stir gently. Strain into large rocks glass filled with crushed ice. Garnish with remaining blackberry and pear slice.
GREEN TEA SPARKLER

Recipe and photo courtesy of
Palais des Thés
10 oz. spring water
3 rounded tsp. or 3 tea bags of Palais des Thés Thé du Hammam*
2 tbsp. peach liqueur
10 oz. champagne or sparkling wine, chilled
Bring water to a simmer over a low flame. (Do not let it boil.) Add tea leaves or bags and infuse for 3 minutes. Filter out leaves or remove tea bags. Let tea cool, the place in refrigerator to chill for 30 minutes. Once chilled, combine tea and peach liqueur in a cocktail shaker and shake vigorously. Fill champagne flutes halfway with mixture, and top with champagne or sparkling wine.
*Thé du Hammam is inspired by a Turkish recipe blended with roses, green dates, berries, and orange flower water.
LOBSTER CLAW BLOODY MARY
Recipe and photo courtesy of the blue at Boca Raton Resort & Club in Florida
2 oz. Passata di Pomodoro (tomato puree)
1½ oz. V8 100% vegetable juice
2 oz. Absolut Peppar vodka
1 espresso spoon Worcestershire sauce
1 espresso spoon beef jus
1 lime wedge
1 lemon wedge
Salt
Pepper
Fresh grated horseradish
1 Maine lobster claw
Add all ingredients except lobster claw to cocktail shaker with ice. Shake vigorously. Adjust salt, pepper and horseradish as necessary for seasoning and heat. Pour into highball or collins glass. Garnish with lobster claw. Add olives and other garnishes as desired.
AFTER THE EGG HUNT

WHITE NEGRONI
Recipe and photo courtesy of The Ice Plant Bar and St. Augustine Distillery in Florida
1 oz. St. Augustine Cane vodka
1 oz. Lillet
1 oz. Aperol
1 wedge ruby red grapefruit
Combine ingredients in a mixing glass with ice. Stir, and pour in a rocks glass. Garnish with grapefruit wedge.
Really want to impress your brunch companions? Then try one of these more "exotic" cocktails. They make take a little bit more work, but the end result will be something to brag about.
EASTER PEARLE
Recipe and photo courtesy of La Perle Noire at Mamaison Hotel Andrassy in Budapest
2 cl.* coffee liqueur
2 cl. Eggnog
2 cl. Cointreau
*This recipe calls for measurements in centiliters; 1 centiliter is equivalent to 0.33 oz. Using 2 ounces of each ingredient will yield 3 drinks.
In a 2½ oz. shooter glass, first pour coffee liqueur. Slowly pour eggnog over the back of a cold bar spoon, taking care to avoid disturbing the lower layer. Then, in a similar manner using a spoon, pour Cointreau atop eggnog layer. Light on fire to warm.
Remember: Carefully blow out flame and let glass cool before drinking!
MATCHA PISCO*

Created by Richard Woods, Head of Spirit and Cocktail Development for SushiSamba restaurants
Photo courtesy of SushiSamba
Matcha-Infused Pisco
5 g. matcha tea powder
1 bottle Porton pisco
Add tea powder to bottle of pisco. Replace lid, and shake gently to infuse. Repeat occasionally throughout the day. Infusion is ready by day 2.
Pineapple and Tarragon Syrup
1 qt. simple syrup
17.6 oz./500 g. diced pineapple
1.05 oz./30 g. tarragon
Bring syrup to a boil and reduce to medium heat. (Do not heat above 100°C/212°F.) Add pineapple. Stir to infuse and leave for 30 minutes. While cooling, steep in tarragon. Let set for 20 minutes. Filter, bottle, and seal.
Dehydrated Orange Zest
1 orange, frozen
Zest frozen orange. Place zest on baking paper and heat in oven on medium heat. Allow zest to completely dehydrate. Using pestle and mortar (or fingers), crumble zest. Seal in air-tight container and reserve.
To Pour
1½ oz. Matcha-infused pisco
½ oz. Orange curacao
½ oz. pineapple and tarragon syrup
1 oz. lemon juice
1 egg white
Dehydrated orange zest
Add ingredients to cocktail shaker and dry shake. Add ice and shake. Double strain into coupette/margarita glass. Garnish with a pinch of dehydrated zest in center of glass.
*The Matcha Pisco tells the story of an Easter egg that traveled to Peru and got tipsy on pisco.
Well, I hope you've enjoyed all of the Easter cocktail recipes from this week. Do let me know if you try any of them. I'd love to hear what your favorites are.
Veni, Vidi, Bibi!
—Rebecca