What's Green Got to Do With It: St. Patrick's Day Cocktail Recipes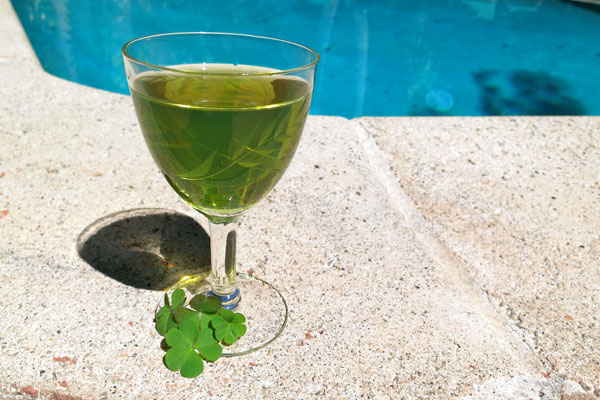 Luckily, being born with green eyes, I avoided being pinched at school, even if I forgot to wear some sort of chartreuse shade on St. Patrick's Day. In honor of the holiday, I've got some groovy and green St. Patrick's Day cocktail recipes for you to toast the luck 'o the Irish with this Sunday, March 17th. But have you ever wondered why green is the color of the Catholic holiday turned beer/whiskey fest?
GREEN IS THE COLOR
The tradition of wearing green can be explained in a few ways. According to some, blue was originally the color associated with the holiday but around the 17th century, this trend started to change.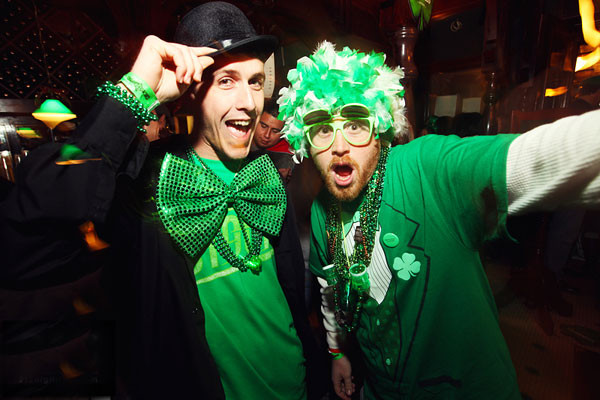 Here are 4 reasons why we wear green on St. Patrick's Day:

The green in the Irish flag (green represents Catholics, orange represents Protestants, white for peace)


The clover St. Patrick used in his teachings about Catholicism


Ireland's nickname as "The Emerald Isle"


Green is the color of spring


And it's pretty much the rest of the world, specifically in the U.S., that wears green on St. Patty's Day. The Irish? Not so much. What the Irish do do – similar to our celebrations – is drink. In fact, if drinking were an Olympic sport, I bet the Irish would take home a medal every time.
As the Irish comedian Spike Mulligan said once, "Many people die of thirst but the Irish are born with one."
WHAT TO DRINK ON ST. PATRICK'S DAY
Irish coffees, Car Bombs, Irish Old Fashioneds, Pickle Backs (a shot of Irish Whiskey  chased with a shot of pickle brine) and of course, copious amounts of beer (mostly Guinness) are the most popular celebratory sips for St. Patty's day.
But I like to get creative with my holiday festivities. So here are a few non-traditional green St. Patrick's Day Cocktail recipes: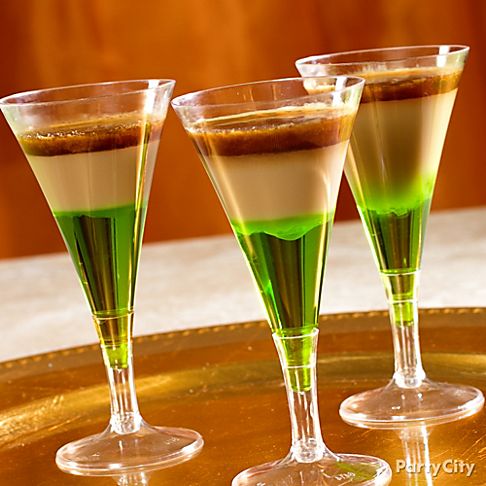 The Dirty Leprechaun via DrinkMixer.com

1/2 oz Jagermeister® herbal liqueur
1/2 oz Irish cream
1/2 oz Midori® melon liqueur
Poor 1/2 oz. Jägermeister in shot glass, layer with your favorite Irish Cream, and top it off by layering it with a 1/2 oz. of Midori Melon Liquor. It can also be shaken in a drink mixer and served with ice.
KISS ME I'M IRISH by 4cocktails.com
1 1/2 part Hornitos Plata Tequila
1 part DeKuyper Pucker Island Blue Schnapps
1 part Pineapple Juice
1 part Mango Juice
Shake with ice and strain into a martini glass
SNAZZY SHAMROCK (Non-Alcoholic) by partycity.com
Lime Sherbert
Lemon Soda or Ginger Ale
Place on scoop of lime sherbert in glass, pour soda over, decorate with a crazy green straw.
Want to stick with the basics? Here is Martha Stewart's recipe for IRISH COFFEE (don't even think about using fake whip cream!).
MORE ST. PATRICK'S DAY FUN
Check out what other Wanderlust & Lipstick bloggers are up to for St. Patrick's Day:
WanderFood: Guiness Fondue and Irish Bread Recipe (YUM!)
Healthy Bangers and Colcannon with Guinness Gravy Recipe
Wandershopper: Book Review of Tony Hawks' Round Ireland with a Fridge
As they say in Irish for a proper toast: Slainté!
Photo Credits: Top photo is my own, St. Patty day party-goers courtesy of 213Nightlife.com, Cocktail photos courtesy of PartyCity.com
3 comments