When the new year rolls around each year, it's no surprise losing weight/getting healthy is the #1 New Year's resolution according to the Journal of Clinical Psychology at University of Scranton. And a good liquid detox definitely gets the ball rolling—whether you're setting a New Year's resolution or just want to feel healthier any time of year.
For me, it's not so much about weight loss (although who doesn't want to lose a few pounds!), but more about giving my body a break.
I put this list together for myself really. But I'll lift my glass filled with nature's best if you want to join me in my detox!***
Here are 6 Liquid Detox recipes that actually taste good enough for me to stick with it:
Lemonade Cleanse
I think just about everyone had tried this, but it does work as lemon consists of ascorbic acid, assisting in the cleansing process. Known also as the staple beverage of Stanley Burroughs' Master Cleanse, this detox drink is easy to make. Mix 2 tablespoons of freshly squeezed lemon juice, 2 tablespoons of pure maple syrup (not corn syrup based syrup) and one-tenth teaspoon of cayenne pepper in 8 ounces of purified water. Proponents of the Master Cleanse recommend drinking 6-8 glasses of this lemonade drink a day and eat nothing each day of your cleanse.
Vegetable Detox Drink by Natalie Rose, Author of The Raw Food Detox Diet
3 carrots
3 kale leaves
2 celery stalks
2 beets
1 turnip
½ bunch of spinach
½ cabbage
½ bunch of parsley
½ onion
2 garlic cloves
Mix all ingredients with water and puree in a blender.
Detox Dandelion Tea
According to many homeopathic practitioners, dandelions are a great source of vitamin A, potassium, iron and calcium. And dandelion detox tea is a diuretic that will eliminate bodily toxins through your liver and kidneys. Brew 6 tablespoons of 1-year-old dried dandelion root and 12 tablespoons of fresh dandelion leaves in 4 cups of purified, boiling water. Or if you want a simpler version – simply add 2 teaspoons of crushed dandelion leaves to a cup of boiling water and steep it for about 10 minutes.
Fruit detox drink
Because fruit is high in fiber and packed with essential vitamins and minerals, it is a natural detox for the body. This recipe incorporates fruit, along with flax oil and lecithin, to provide essential fatty acids while you detox. In your blender, add:
8 oz. of orange juice
4 oz. of pure water
½ cup banana strawberries or yogurt
½-inch slice of ginger
1 small garlic clove
1 tablespoon flax oil
1 tablespoon lecithin granules
1 tablespoon freshly squeezed lemon juice if desired
1 tablespoon of protein powder or Spirulina powder
Beet Ginger Detox
2 tbsp fresh ginger (peeled and chopped, 12 ounce)
1 beet (8 ounces scrubbed and coarsely chopped)
4 carrots (8 ounces total scrubbed and sliced)
1 apple (8 ounces cored and cubed)
1 cup water
In a blender, combine ginger, beet, carrots, apple, and water; blend, scraping down sides occasionally, until smooth. Strain juice and, if desired, thin with additional water. Refrigerate up to 2 days (shake before serving). Recipe found on Yummly.com
Liver Detox
3/4 cup warm water
2 tbsp lemon juice
1 tbsp extra virgin olive oil
1 tbsp blackstrap molasses
cayenne pepper (taste)
Heat water, but do not boil. Add lemon juice, olive oil, molasses and a dash of cayenne. Drink this mixture first thing in the morning for 10 days continuously. Recipe spotted on Yummly.com.
Ready Made Juice Cleanses
Don't have time to brew up your own juice cleanse?
Here are a few brands of juice cleanses that taste pretty good and have a celebrity following: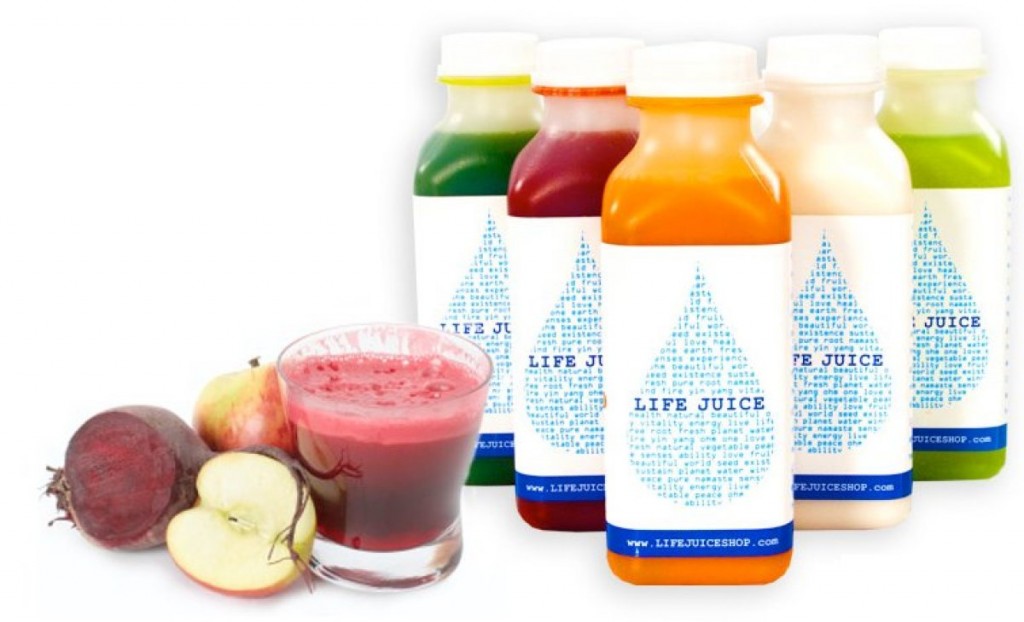 Organic Avenue Love Deep Cleanse (as depicted in headline photo).
*** Please consult your physician before beginning any of these regiments to make sure it's right for you.
Photos used courtesy of the respective juice companies.