Flagstaff, Arizona is literally elevating pub crawling into pub pedaling. Introduced last fall, the Alpine Pedaler is a gigantic party-on-wheels, like a community bike for up to 14 people. Every Friday night, no matter the weather, you can pedal your way through historic downtown Flagstaff for a 2 ½ hour tour of breweries, pubs and bars.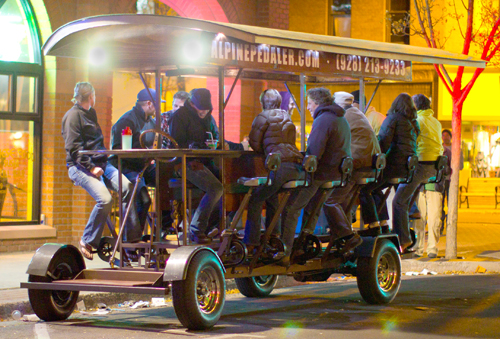 Not a drinker? No problem, Alpine Pedaler also offers monthly foodie tours too. I can't think of a better way to eat or drink your way while sightseeing through the quaint town of Flagstaff than on a community bike.
The Pub Crawl Pedaler runs all year-long, weather permitting and its $25 per seat for 4-5 stops. Alcohol is not included (and you can't bike and drink) but you do receive a nifty VIP wrist band which entitles you to 'happy hour' type prices.
With Alpine Pedaler, no need to have the inside scoop on local Flagstaff hot spots, just sit back, pedal and the tour guide leads the way! This is a fabulously fun idea for a bachelorette/bachelor or adult birthday party as you can rent the whole pub-cycling mobile out for you and your pals.
Here's to pub pedaling! www.alpinepedaler.com
Photo courtesy of Flagstaff CVB
In other travel beverage news, Wander Chic tastes Costa Rica's version of a sno-cone: a Granizado.