Curiously Korean: Jeju Island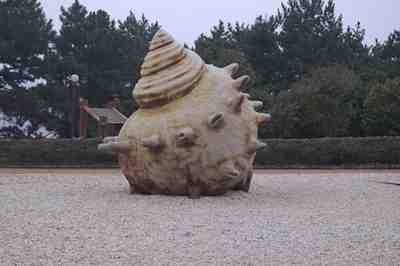 Did you know there is an island in the East China Sea where the women weather icy ocean waters and hold their breath for multiple minutes while diving into the murky depths for edible sea creatures? Where museums are dedicated to teddy bears and tea, where a rambling bonsai arboretum grows pint-size trees, and where there is an amusement park made out of glass?
Simple little Jeju Island, no larger than the city of London but a world away from it in character on the southern tip of the Korean peninsula, is considered that country's Hawaii. It's an odd spot for honeymoons given the cold winters. And it has an odd history and an even odder modern day presence. But this resort island for every season but winter is so intriguing that ASTA chose to hold its International Destination Expo there in 2007.
Why go to Jeju?
Possibly for a chance to see the last of a tradition of women divers ply their trade. A local survey conducted in 2003 revealed that some 5,659 women still dive in the rough, cold waters off this island. Of that number 2,966 were over 60, 1,722 were over 50, 969 over 30 (and, yes, there were two below 30). This number contrasts to the 1950's and the 30,000
women divers counted on the island.
Not in the mood for a National Geo moment? Then it's possible to go for the topography of windswept cliffs and a remoteness in some places that feels like a moment from the Scottish moors. Or to see acres of kimchi fermenting in clay pots on rooftops and gardens around the island. To walk to mythical waterfalls along idyllic garden paths and be met with the chance to make a wish on a lovers tree and immerse in the island's poetry and lore.
And then there are all those odd attractions. There are six cities and towns around the coast of the island and between them and through the center are dense pine forests and volcanic mountains and windswept plateaus. Taming this landscape are folk villages dedicated to village life and tell stories of the history and topography of the island.
Eleven museums focus on everything from those women divers to mini set-ups of iconic cities around the world, to the Japanese occupation of the island during WWII. The Museum of African Art houses a riveting right-size replica of Mali's Grand Mosque of Djenné, and contains what may indeed be Asia's best collection of African art. Learn everything you ever wanted to know about Green Tea at the Green Tea Museum – and even sample some amazing green tea ice cream. Then watch teddy bears strut their stuff at the Teddy Bear Museum.
And then there are the curiosity stops:
Loveland is perhaps Jeju's most eccentric attraction. It's a strange outdoor sculpture park with more than 140 exhibits centered on sex and love in all its many forms and splendor.
The Kimyoung Maze is a topiary maze right out of The Shining where visitors can lose and find themselves again amid the evergreen and overgrown hedges. Only 5 percent of visitors to the Maze make it out in less than five minutes. Strategy is key.
And then there is the Glass Castle, which stands as one of Jeju's two theme parks. Less a land of thrill rides and adventure platforms, the park takes visitors along easy paths and surrounds them with glass sculptures, glass mazes, art works and fairytale exhibits – and some glass houses, too. A hands-on studio experience gives visitors the chance to craft their own works.

Hotels and resorts on the island abound in all price categories, with Hyatt and Crowne Plaza among the best known for North Americans. Lotte and Shilla are top-class domestic chains and offer superb service, and stunning rooms in both European and Korean styles.
Korea's frequent flights to the island arrive at Jeju International Airport in Jeju City from Gimpo Airport in Seoul and Gimhae Airport in Busan. Shuttle buses regularly loop the island, from Jeju City to Seogwipo, in a trip that takes about 2.5 hours to complete as the buses stop at over 30 destinations along the ring. Taxis are numerous and cheap and bike rentals are available at hotels.
English is not widely spoken on this island and even trained local guides can be difficult to understand. Equally few are US tour operators who can arrange and accommodate interest in visiting Jeju Island. Pacific Holidays, based in New York, is one of them.
For more information on Korea, contact the Korean National Tourism Organization (KNTO) at (800) 868-7567 (TOUR-KOREA) or visit www.tour2korea.com.
Photos c/o Lark Ellen Gould and Korean Tourism Board
Add a comment