Have Book Will Travel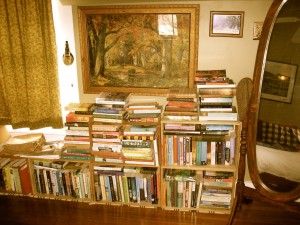 I am excited to be invited to step in as the new travel book reviewer at Wanderlust and Lipstick.  I, perhaps like you, have a magnetic attraction to that combination of words: Travel and Book which go together like peanut butter and jelly, white sand and blue sky, map and trail, hope and possibility. I've been practicing saying my new name: Wandering Booklust, Wandering Booklust, Wandering Booklust three times fast and I've almost mastered it without getting it wrapped around my front teeth but I'm pretty sure anyone listening would hear only, "Wandabook,Wandabook, Wandabook."
Please call me Meg.
What do I bring to the role of Wandabook? Well, I read  travel-related books probably like you –voraciously.  I lust for them. They call me from the aisle of every book store and library, they overflow my bookshelves, they rest at odd angles on my small bedside table, hide under the couch and children's car seats and make my shoulder bag sag.  Having spent a lifetime consuming travel books I am also a traveler and writer, adding my own words to the toppling piles.  I write a lot about getting lost.
Assuming the mantle of Wandabook (I imagine her costume has a waterproof/windproof cape, a capacious backpack, constantly changing hair hues like Hogwart's Nymphadora Tonks and a good pair of hiking boots ) is a solemn undertaking.  As Wandering Booklust Reader and Weeder,  I aim to share those books that you and I find tremendously useful and serendipitously delightful. We love them so much that they become well- thumbed  permanent additions to our own tumbling piles of travel books. The ones we don't love go to stabilizing the sofa's legs.
Imagine this: Wandering Booklust profiles a gorgeous book, just the one to take with us on our next trip or over to that cozy armchair or warm tub. We read it cover to cover and then slowly go through it again. Maybe we wander back streets of faraway small villages reading it when we stop for a rest, a coffee, a glass of wine, or squint under a starry sky with only a candle or a powermag  super-shine flashlight to see by.
When we're finished, (really finished) we give it to a friend or a new acquaintance  or leave it opened to page 134 on a park bench for strangers because we want them to have that experience as well.
When we get home or weeks pass, we realize that we must have (Must Have!)  our own copy of that lovely book back in our nest and we buy a new one.  This  pristine copy  has no bent pages, no wine stains, no leaves or train ticket stubs tucked in as place holders, no mysterious phone numbers or directions in the margins; it has never been dropped in the bathtub.  We wonder what our old copy's new readers are making of all that.
Those books are out there now, just waiting for us. Calling all Wandering Booklusters—let's go!
Nymphadora Tonks courtesy DeviantArt.net

What are you reading? Share it here!
4 comments