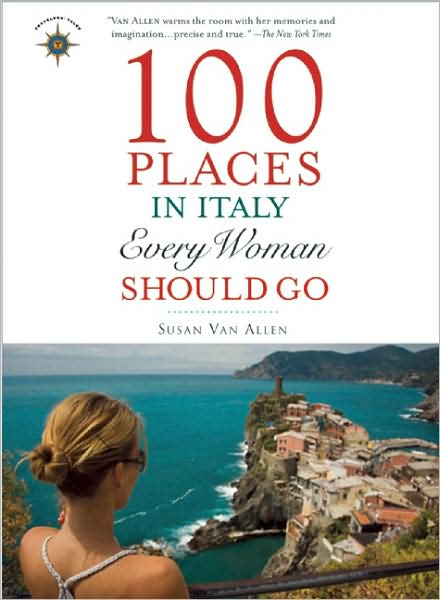 We know the Spanish Steps and the canals of Venice but Susan Van Allen's 100 Places in Italy Every Woman Should Go reveals locales you might not have even heard of and would make the perfect vacation for a woman whether traveling solo, with your special someone, or just with the girls.
This book has absolutely every place you can think of to fulfill your appetite, literally and figuratively, whether you are looking for gardens, churches and beaches, or spas, chocolates, active adventures, or my personal favorite – cooking classes (her suggestions for classes makes me want to book a trip to an Italian mamma's home in a tiny village right now). Van Allen helps you plan your day too so if you decide to go to a beach town, she also includes a cafe or restaurant nearby that you can go to for lunch or dinner.
Not only will this book help you plan your trip but you should also pack this in your bag as information on every site includes a little bit of history so you know what you are visiting as well hours and prices. Web sites for each attraction are right there on the page for you so you don't have to flip around the book looking for what you need or have to go searching on the Internet later. I loved the 'Recommended Reading' sections at the end of chapters – suggestions of books you should read to get into the spirit of Italian culture. If all these hidden gems weren't enough, Van Allen provides a wealth of additional resources in the back of the book plus tips for staying healthy and safe on the road whether you are traveling solo or in a group.
You need this book if you want to travel off the beaten path in Italy and claim a special spot that you won't have to share with crowds.
Available on Amazon
If you would like to read more of my travel book reviews, don't forget to subscribe to this blog via e-mail or the RSS Feed.