We've all been there. You wake up and your head gives you an immediate, painful reminder of how much fun you had the night before. As this is a universal experience, hangover cures can be found in every country and there are some common themes, namely pickle, carbs and tomatoes. So if you're going out this weekend, make sure to hit the grocery store first and prepare for the day after in any county! Here are a few of my favorite hangover cures, adapted from this list on BootsnAll.com.
1) Pickle Juice: A few different sources I came across indicated that this is the hangover cure of choice from Russia. I want to believe they know what they're talking about…but there's not much about this that sounds good.
2) Pickled Herring wrapped around gherkin and onion, called a "Rollmop," is Germany's cure of choice. While I'm not sure I could stomach this on a hangover, I can't deny that the saltiness of the fish and the tartness of the pickle and onion definitely fall into the classic hangover food category. Ok, Oktoberfest anyone?
3) Irish Breakfast: like the US, the thought process here is to fill yourself up with greasy food and carbs. What I like about this is the lack of any serious sauces. Just plain is just fine when you're curing a hangover.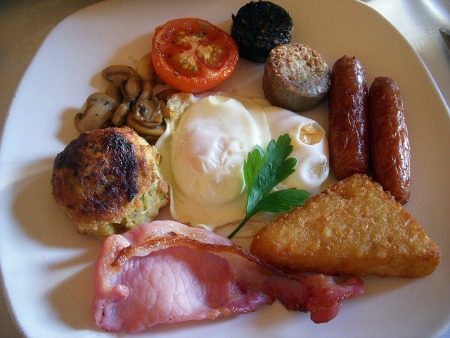 4) Shakshuka from Israel follows the tomato tradition for curing a hangover. Spicy and revitalizing, it is full of nutrients sure to help your energy levels rise.
5) Poutine from Canada has all the earmarks of a classic hangover cure. Though to me it just looks way too unappetizing to do any good.
6) Rosti from Switzerland keeps it simple and delicious. Similiar to hash browns, this is a standard breakfast item in Switzerland.
7) Tomato soup and toast is the hangover cure from my house. The US is also credited with creating the Bloody Mary, consisting of, what else? Tomatoes and pickles.
What are some of your favorite hangover cures?
Eat Well, Travel Well ~ Samantha

Photo Credits
Irish Breakfast: LWYang via Flickr
Rosti: Jules via Flickr
Bloody Mary: Ben Husmann via Flickr
2 comments