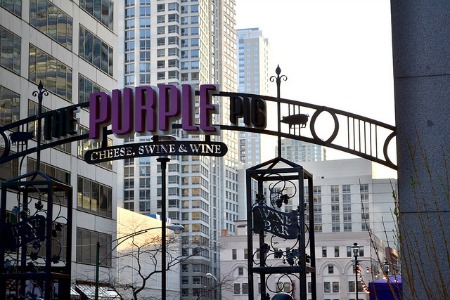 The Purple Pig in Chicago is an experience not to be missed. This restaurant came highly recommended to me and I'm so glad I went. Great atmosphere, delicious food, and in the heart of a city known for it's food, it holds its own and then some. If you ever want to give your taste buds a real treat, you definitely need to go here.
Purple Pig is tapas style, so everything is arranged as small plates, designed to serve one to two people. They are very accommodating with the ordering process, which I found refreshing. Customers are encouraged to order on a rolling basis, and food comes out when it's ready.
There was a lot to choose from, all different types of flavors, plenty of vegetarian options, and a good amount of seafood. And then my eye lit upon what could be the most beautiful sight I've ever seen: Fried Manchego Cheese. Let me say that again: FRIED MANCHEGO CHEESE. First of all, Manchego is probably one of the most delectable cheeses ever and if you fry something it automatically enters it into a whole other stratosphere of yum. This dish was paired with Membrillo, a divine jam made from quince fruit, and it was everything it sounds like and more.
I then sampled one of their specialties: Roasted Bone Marrow with Herb Salad. If you've never had bone marrow before, it is well worth trying. A bit like a cross between butter and olive oil, spread over lightly toasted bread, it has a rich taste, something that hits you at the back of the palate. A true treat, I make a point to have it wherever I see it and I can safely say, this is one of the best I've had!
Charred Cauliflower with Toasted Breadcrumbs followed, offering a nice freshness. The cauliflower was perfectly cooked, which, if you've ever tried cooking cauliflower or broccoli, or other such vegetables, you know can be tricky business. I liked the loose structure of the breadcrumbs, they added a great texture and didn't make the cauliflower doughy, as breadcrumbs can often do.
Octopus with Green Beans, Fingerling Potatoes and Salsa Verde came next. Beautifully cooked with nice tangy flavors, it was the perfect in-between dish, complementing the heavier fried cheese and bone marrow and the lighter cauliflower perfectly.
Have you ever visited the Purple Pig in Chicago? What was your favorite dish?
Eat Well, Travel Well ~ Samantha

Photo Credit
Purple Pig Entrance: Roberto Bolanos via Flickr
Add a comment