The Whine and Canvas Class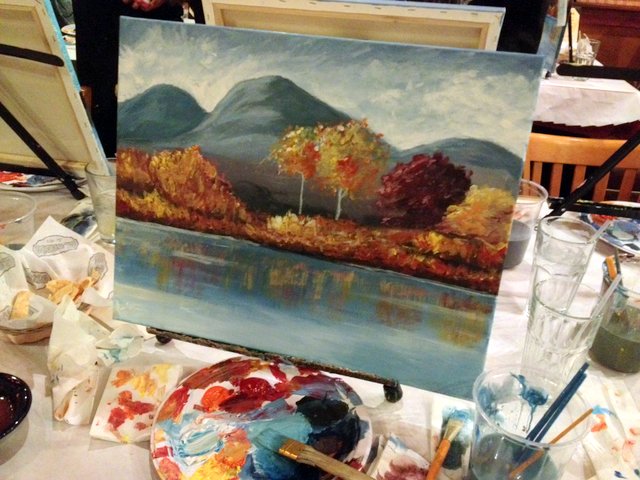 On my constant search to meet new friends in the socially barren suburban wasteland of Orange County, I went to a Wine and Canvas class last night via Meetup.com. I've always been curious about taking a painting class, and this – at least according to the title – paired it with wine. Two of my favorite things!
Well, one bad $9 margarita down, I didn't mind so much that "Wine and" was a misnomer. I didn't even mind that I was on a diet with  plates of nachos whirring past on their way to other hungry painters. I was having a really good time – both with the painting, and with the two girls also trying to capture the fluffiness of clouds with little success.
"I hate clouds!" one of us would whine in frustration.
"This water…Ugh!" another would cry.
"How's your bush doing?" the girl to my right asked, taking a moment to register how that sounded.
Yes, we had a very good time – even if we were frustrated by our collective artistic inability, maybe even because of it. But next time I try a "Wine and Canvas" class, I'm going to read the fine print and make sure that "wine" and not just "whine" is included.

Yes, all these paintings are upside-down. Maybe that's where we went wrong?
What lengths have you gone to to meet new people?
Photos by WanderFood
5 comments