If you live near a college town, chances are you've seen a Which-Wich sign glowing yellow over the heads of hungry co-eds. I live in a town with three colleges, which has given me my own diploma-by-proximity in good, cheap eats. Which-Wich is one of my favorites – you can't go wrong with over 50 combinations of custom sandwiches – but in one of their newer branches, I found something I didn't expect: personality.
When you enter Which-Wich, you see a wall of brown paper bags beneath their menu and dozens of red permanent markers. You check off the combination of ingredients you want on the bag and hand it to the worker at the cash register. It's a great system, so great in fact that it seems to have inspired the locals.
The far wall is entirely dedicated to patron art on the backs of these paper bags. And then, for those less artistically inclined, there's the "Boyfriend Application."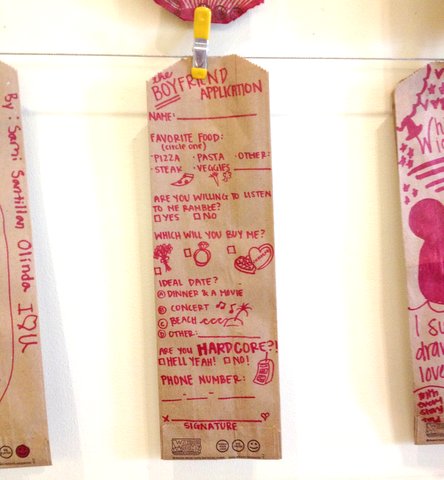 As much as I admire the artwork on the walls, my favorite creation is between two halves of toasted whole wheat – the Which-Wich Gyro with tzatziki, cucumber, red onion, spinach, and garlic oil.
I love it when a chain restaurant breaks out of the mold (however trendy and hipsteriffic that mold may be) and actually reflects the community it's in. Very few manage to do that. Most chains, like Starbucks for example, transport you into their branded worlds, where you know what decor to expect and how to order your food with chain-specific jargon (I refuse to ask for my coffee using the word "tall" when I mean "small"). Way to go Which-Wich!
Do you have a favorite "chain"? Tell me in the comments, and don't forget to join the WanderFood Wednesday Link Party!
Photos by WanderFood