Pumpkin Ginger Scones from the Sea Witch Manor Inn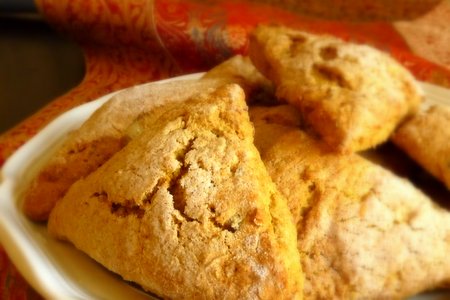 The best baking book I've ever found is a cheap paperback I dug out from a stack in a charity rummage sale:
The Great Country Inns of America Cookbook: More Than 400 Recipes from Morning Meals to Midnight Snacks
It's got incredible recipes from Bed & Breakfasts (lunches and dinners) around the United States. What I love about this book is that it has B&Bs you've probably never heard of – and these B&B owners know their way around a kitchen. The book is an eclectic mix of regional specialties and chefs' favorites, like "Broccoli/Pumpkin Soup" from the Ravenscroft Inn in Port Townsend, Washington, or classic "Fried Chicken" from The Duke Mansion in Charlotte, North Carolina.
My favorite recipe from this tried and true treasure trove is for Pumpkin Ginger Scones, specialty of the Sea Witch Manor Inn in Rehoboth Beach, Delaware. I make these every October, partly because I'm enchanted by the name of the inn, but mostly because these incredibly rich, moist, and spicy scones are a show-stopper for brunches and teas!
Pumpkin Ginger Scones
1/2 cup sugar, divided
2 cups all-purpose flour
2 tsp baking powder
1 tsp cinnamon
1/2 tsp baking soda
1/2 tsp salt
5 Tbs butter, divided
1 egg
1/2 cup solid pack pumpkin
1/4 cup sour cream
4 Tbs finely chopped crystallized ginger
Directions

Preheat 425 degrees F.


Reserve 1 tablespoon sugar.


Combine remaining sugar, flour, baking powder, cinnamon, baking soda and salt in large bowl. Cut in 4 tablespoons butter with pastry blender or 2 knives until mixture resembles coarse crumbs.


Beat egg in small bowl, add pumpkin, sour cream and ginger, and beat until well blended.


Add pumpkin mixture to flour mixture and stir until soft dough forms.


Turn out dough onto well floured surface, knead 10 times. Don't over-knead!


Roll out dough into a 9×6 rectangle with lightly floured rolling pin. Cut dough into 6 (3 inches) squares with lightly floured knife.


Cut each square diagonally in half, making 12 triangles. Place triangles 2 inches apart on an un-greased baking sheet.


Melt remaining 1 tablespoon butter. Brush triangles with butter, sprinkle with reserve sugar.


Bake 10-12 minutes or until golden brown and wooden pick inserted in center comes out clean. Cool on wire rack 10 minutes. Serve warm or cool completely.


Makes 12 scones.
Want more recipes from the Sea Witch Manor Inn? They've got them on their website!
Photo by WanderFood
2 comments