WanderFood Wednesday: The Hunt for Great Italian Food in Italy
I will tell you How to Find The Best Food Anywhere – it's an easy trick anyone can do, at home or abroad.
But first, I want to talk about Italy. Before I went to Italy, my entire conception of the country came from movies that romanticized it, and a few people I knew who had been there and loved it. In fact, talk to anyone who has been there, and 9.9 times out of 10, they love it. They feel connected to Italy in a E.M. Forster's Room with a View kind of way. Even Beth Whitman, who didn't go in expecting to love Italy, loved Italy.
My husband and I honeymooned in Venice, Florence, Tuscany and Rome (after driving from Frankfurt through Bavaria – yep, nice!). Our first stop on the boot-shaped peninsula was Venice. And here's what people don't tell you about Venice: It's so expensive to live there that the locals have fled to the mainland and commute to work, which means every restaurant and shop in Venice is for the tourists. I stubbornly kept trying to find something delicious and authentic, searching TripAdvisor and travel forums daily.
One night, we finally managed to locate an off-the-beaten-path ristorante with a menu posted outside the door in Italian (not GermEnglEnch), and we heard nothing but fluent Italian from the doorway. When we entered, we were bustled to the back room (past the front room of Italians), where we heard Americans, British, Germans, and Australians. Apparently, the few locals who remain would rather not suffer the company of the tourists. The meal: forgettable. And we were handed the English tourist menu whether we wanted it or not.
Venice itself, of course, is unforgettable. Incredible history right and left, stories every canal, and the Rialto defies imagination. I don't mean to disparage it. But if anyone knows of good eats on the island, please let me know. Until then, there's always gelato and cheap vino.
Florence – Firenze – was much better, though still hit and miss. We had our best meal in Italy when we went out with friends who knew Gino, the gregarious chef and owner of Trattoria Icche Ce Ce. Gino is a treasure. He's old-world, old-school, charming and inappropriate like your favorite uncle. His food was as warm, welcoming, and genuine as he is, and he pulled out all the stops. Fresh, gorgeous pasta and Bistecca alla Fiorentina. We walked (waddled, really) across the Ponte Vecchio for gelato under the stars, and it was the quintessential Italian experience (at least according to the movies and Forster).
Tuscany was tough. Extraordinarily beautiful and exciting, but foodwise – tough. Worst meal: ground steak tartar in a "rustic" barn-turned-restaurant that hummed with flies. Right – you didn't see that in Under the Tuscan Sun, did ya? But, we also had one of the best lunches in Piensa's Trattoria da Fiorella, with pasta that tasted like it had been made on the spot, just for us. It probably had.
It was while staying at Siena House, a gorgeous hill-top B&B owned by a British couple, that we learned the secret to finding great food – anywhere. The well-traveled proprietors (awesome people!) picked up this tip on their many adventures, and it's one that saved us:

"Look for a restaurant with white tablecloths."
White table cloths are an unnecessary expense. The staff has to change them after every seating and have them professionally laundered. Chances are, if the restaurant owner is willing to do that, he or she is also paying close attention to the quality of the food. Great tip, right?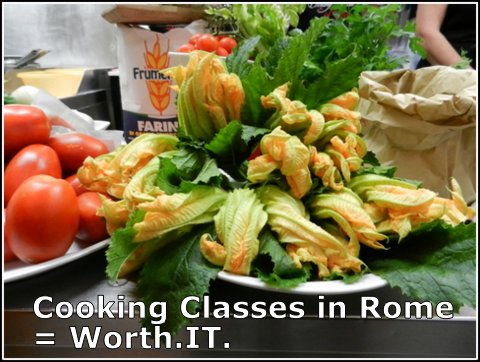 On we went to Rome, where we ended our trip with an Eating Italy Food Tour and a cooking class at "Cooking Classes in Rome." These were my two favorite foodie experiences in Italy. The food tour and cooking class, back to back, were a crash course in Italian food theory that I'll never forget. And neither will my husband…
What are your best tips for finding great food abroad? Tell me in the comments! And, don't forget to join the link party that is WanderFood Wednesday! I'm pinning all my favorite posts to Wanderfood's Pinterst boards. Ciao!
Directions for Using LinkyTools
Click on "Click Here To Enter" highlighted in blue above. That will take you to a page that asks for:
1. Link to… [enter the link to your website or blog here]
2. Caption or Title…[enter a short photo title here, it will be seen below your picture]
3. Your email & Your Name…[who you are – we don't share your info withANYONE]
4. Two boxes – one that says "Let me crop my own image" and one that crops it for you. Your choice.
Then you choose from where you want to upload your image: From Web (site), From File (your computer), Generic (don't choose this).
Once you've uploaded your image, you can crop it (if that's the option you chose), and it will take you to a screen with a link back to my blog so you can see your work!
4 comments