3 Places You Have to Go: Santa Barbara Wine Country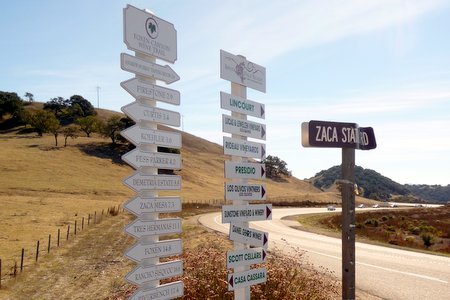 As the first post in my series of restaurant recommendations and food experiences around the world, I thought it only appropriate that I start this journey in  my own community, the Santa Ynez Valley, aka. Santa Barbara's "wine country." It's not Sonoma or Napa (it's cheaper, warmer, and less pretentious for starters – that may be my hometown bias talking), but in recent years, the food scene has elevated to match the wine culture. I've been able to follow the evolution of Valley cuisine closely as a freelance food writer for the Santa Barbara Independent Newspaper, and it's been my pleasure to cover many of the restaurants opening in Buellton, Solvang, Ballard and Santa Ynez. I must admit to a few favorites.
If you wind up in Santa Barbara, here are Three Places You Have to Go.
Avant Wine & Tapas Bar, Buellton
While you're headed down unassuming Industrial Way to Avant Wine and Tapas Bar in Buellton, you might wonder if you're horribly lost. Just keep going until you reach the parking lot at the end, and drive to the back of the Terravant wine making facility. Fearlessly ascend the flight of stairs just inside the entrance, and you'll be greeted with a wide open space with windows that try to capture all the majesty of the mountains above the Santa Ynez River. Wine pouring machines run the length of one, very long wall, pouring wines made at the facility under your feet. You'll find big names and small, and with a handy little card, you can try as many as you like, paying a few dollars per taste or glass. Sit down to a plate of Chef Brooke Stockwell's "Hipster Crack" – figs with blue cheese, wrapped in bacon, and drizzled in a balsamic reduction – and enjoy the stunning view.
35 Industrial Way  Buellton, CA 93427 ; (805) 686-4742
Dos Carlitos, Old Town Santa Ynez
I covered the opening of Dos Carlitos when I still thought Tequila might be for me. They have an incredible selection of aged, high quality Tequilas (in fact, I think my article was titled: "Not Your College Cuervo"), but despite the heady vanilla notes, I never could get past making "the face." Lime and salt please, stat. Whether or not you appreciate fine cactus juice, the Mexican food served here is the best in the area. With nibbles ranging from Mole, to Empenadas, to unforgettable Enchiladas, everything that comes out of the Dos Carlitos kitchen is fresh, authentic, and beautifully presented. It's a can't-miss for Mexican food lovers.
3544 Sagunto Street  Santa Ynez, CA 93460 ; (805) 688-0033
Ballard Inn, Ballard
Chef Budi Kazali is one of the most-loved members of the Santa Ynez community. While walking behind him (not stalking!) at the Solvang Farmer's market one Wednesday, I couldn't help but laugh as he was greeted by name not only by each of the produce sellers, but by half of the other shoppers as well. Every week he tows a wagon through the market to stock up on the freshest Valley fruits and vegetables, from which he plans his ever-changing menu for Ballard Inn's restaurant. The flavors are Pacific-Rim-meets-wine-country, and his combinations are always a surprise. The restaurant has only 12 tables, and only serves dinner from Wednesday through Sunday, so make your reservations early especially around holidays. I would put Ballard Inn up against anything Napa or Sonoma has to offer – and of course, it's much more reasonably priced.
2436 Baseline Avenue  Ballard, CA 93463 ; (805) 688-7770
Have you been to Santa Barbara Wine Country and think I missed a great find? Tell me about it! What are your Three Places You Have to Go?
*If you need a fourth, I'd be remiss if I didn't mention Succulent Cafe & Trading Post's dinners in Solvang: 1555 Mission Dr
Solvang, CA 93463
Photos by WanderFood
1 comment