WanderFood Wednesday: Food Gifts, Amaretto Biscotti
My step-mother loves her coffee. In fact, I hear she's getting a new coffee maker for Christmas. So I did some research on coffee and found that a lot of locals love the Intelligentsia brand. I guess it's SoCal's answer to Portland's Stumptown coffee roasters – in other words, it's Hipsteriffic.
I stood in line for 30 minutes just to buy 1 bag of ground coffee, while be-scarved and bespectacled, skinny-jeans-clad patrons queued in the line that stretched to the front door. The cute barista wearing black suspenders artistically swirled lattes and poured coffee through glassware that looked taken from a high school chemistry lab. I don't know if Intelligentsia coffee is all it's cracked up to be (I didn't think Stumptown was the be-all and end-all either), but it was fun to find a hard to get coffee regardless.
The next morning, I baked Amaretto Biscotti to go with it. I love home-made food gifts, as long as they're not fruitcakes, and I've never attempted biscotti. I remember a friend telling me about the time his aunt made biscotti, and it was so hard they took it out to the barn to try and cut it with a table saw (then it crumbled into bits). I took it as a cautionary tale. Making biscotti is easy. Cutting it is hard.
Once this batch came out of the oven, we tried several knives to get through the hard cookie crust without crumbling, crushing, smashing, or breaking it. Ceramic works the best friends, that is my conclusion! The nuts stick to metal and pry apart the dough while you're trying to hack through. A ceramic knife wielded with a firm hand does the job splendidly.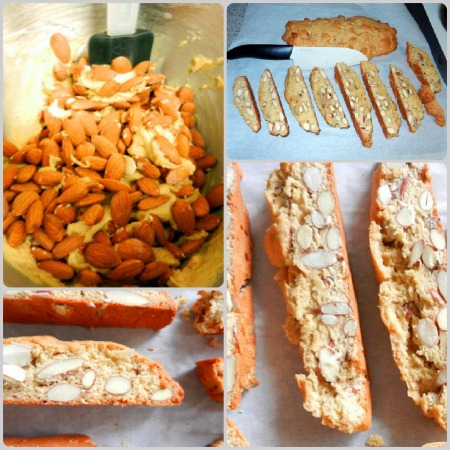 This
Amaretto Biscotti recipe
was adapted from
Quite Curious
.
Makes approx. two dozen cookies
1/2 stick of butter, melted
1/2 cup white sugar
1/2 cup light brown sugar
2 eggs
2 tsp baking powder
2 cups flour
1/4 tsp Kosher salt
2 Tablespoons and 2 teaspoons amaretto liqueur
2 cups of whole, unsalted almonds

Preheat the oven to 350F. Line a sheet pan with parchment paper and set aside.


Cream the butter and sugar together. Add the eggs, almond extract, amaretto liqueur, baking powder, salt, and flour. Mix everything well until it forms a smooth, sticky batter. Gently fold in the almonds.


Divide the dough into 2 equal portions. Make two long, 3-inch wide, flat rows of dough on the sheet pan, spaced two inches apart.


Bake for 25 minutes, or until the cookie rows turns golden brown.


Remove the sheet pan from the oven. Let the cookie rows cool for about 10 minutes then slice into 1 inch pieces with a sharp knife. Turn the cookies over so they lay on the side.


Return the cookies back into the oven to dry out any moisture still in the cookies. You can use the residual heat from the first baking, or turn the oven on to a low temperature.


*Tip: Cut on a bias for longer pieces
Photos by Wanderfood
Think of this week's WanderFood Wednesday Link Party as though it were a White Elephant Gift Exchange – I gave you my favorite food gift recipe, and I'd love yours in exchange! Either leave a comment, or, if you have a blog, join the link party using the LinkyTools widget below!



1 comment