WanderFood Wednesday: Oktoberfest!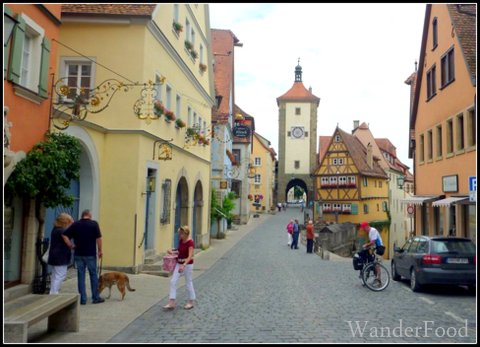 Something happens to me in October – I start having a wild, unstoppable craving for beer and big sausage. And I'm reminded of the best sausage of my life, from a little fairytale town called Rothenburg ob der Tauber, Germany.
Once upon a time (ok, it was last summer), my newlywed husband and I found ourselves screaming at each other in the jewel of the German Bavarian countryside – Rothenburg ob der Tauber. Why the friction (and on our honeymoon no less)? Because we were driving. In an idyllic medieval town. Through tiny streets. And we were lost. We thought our luck would change after we found our historic hotel, built in to the town's original wall, but while we congratulated ourselves on our navigational skills while walking from our hotel to the town square – my DSLR broke. No repair shops in sight, and two weeks of European honeymoon left.
And yet, this is one of my favorite towns in the world. Here's why.
I may have been on my second lager by the time this photo was taken…

My husband, staring wistfully in the butcher shop window (sorry vegetarian readers – I promise, next Wednesday, it's all about you).
VICTORY IS MINE!
By which I mean – I had been in Germany for two weeks without finding good sausage or beer. I know. What? Is that even possible? Well, our honeymoon took us to the West side of Germany, to the Mosel Valley, known for its Riesling and rather Frenchified food.  Total Germany Fail.
kidding. kind of.
When I tasted this sausage, sold straight from the local butcher shop on a simple bun with house-made mustard – it was heaven. Crisp skin on the outside, sweet, savory and spicy flavor on the inside. Sadly, I never was able to enjoy that sausage with a beer. And I will spend every Oktober for the rest of my life trying to make up for that. Dinner tonight? Beer and Bratwurst, of course.
What do you do for Oktoberfest? Tell me in the comments – and if you've written a foodie post this week, share it in the Link widget below!

Post a food post on your blog.


Include a link to WanderFood Wednesday in your post.


Add your blog name and post title to the "Mr. Linky" form below, with a link directly to your post. That's it!


4 comments