WanderFood Wednesday: A Chinese Banquet at Vancouver's Always Seafood Restaurant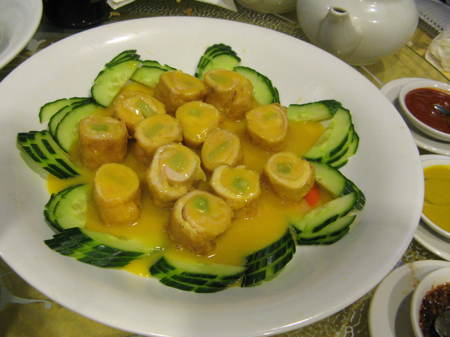 Have you ever attended a Chinese banquet?
I ate my way through multiple courses at an elaborate dinner held not long ago at the Cantonese-style Always Seafood Restaurant in Vancouver. Here are just a few of the dishes we sampled.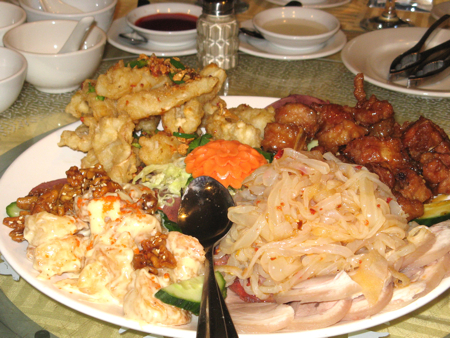 The "Four-Fortune Appetizer Platter" included five-spiced beef, salt-and-pepper fried squid, honey-garlic pork ribs, and a cold jellyfish salad.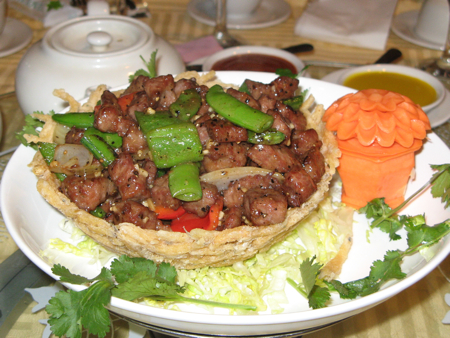 The sautéed beef tenderloin with red and green peppers was served in a crispy—and edible—"nest."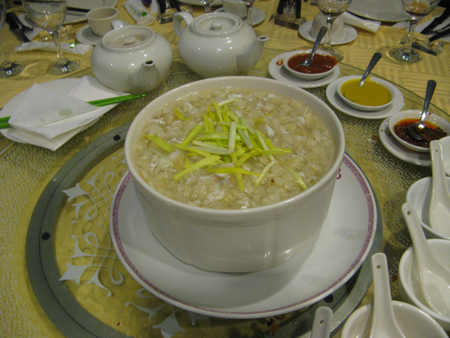 When we were served this mild fish maw soup, no one could agree on what a "fish maw" was. Apparently, it's an air bladder that helps fish stay afloat—and gives an almost creamy texture to this delicate soup.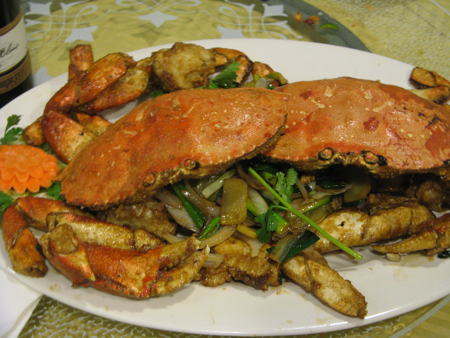 What's a Chinese banquet without a big platter of crab?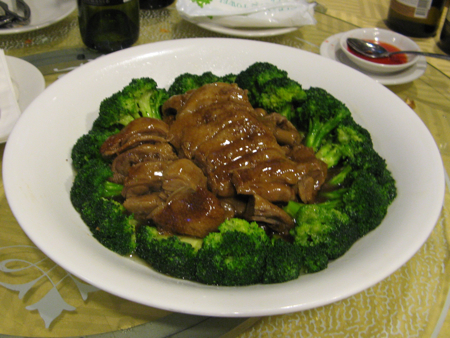 An unusual menu item for a Chinese restaurant, this savory dish was braised goose in a bean sauce, served with lightly steamed broccoli.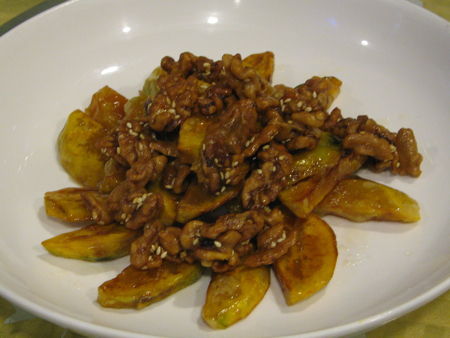 For dessert, we had "Golden Squash with Sweet Walnuts"—delicately fried kabocha squash with candied walnuts. An unexpected finish to an excellent meal!
What's the most elaborate dinner—Chinese or otherwise—that you've ever had? Please leave a comment and dish on the dishes!
And if you'd like to share your own food adventures (and some link love), join the WanderFood Wednesday blog carnival. Here's how:

Post a food photo on your site.


Add a brief description about the photo and include a link to WanderFood Wednesday.


Add your blog name and post title to the "Mr. Linky" form below, with a link directly to your post (not to your main blog). That's it!



If you go…
Most of the dishes we tried are available on the regular dinner menu at Always Seafood Restaurant, 4298 Main St., Vancouver, BC, 604-876-6110. And you can always phone ahead to request a particular dish.
Always Seafood hosted this dinner for members of the media. And special thanks to Chinese food expert Stephanie Yuen for organizing the event.
Tasty Travels!

Carolyn
Photo credits:
All photos © Carolyn B. Heller
4 comments