The WanderFoodie Eats Portland: Adventurous Eats at Aviary
What's that flavor? How do they make this? What's in that sauce?
When every dish makes you exclaim with wonder and delight, an ambitious kitchen has done its job.
Aviary, an eclectic contemporary bistro on Portland's hip Northeast Alberta Street, is just such an ambitious, and accomplished, restaurant.
My husband Alan and I sampled Aviary during Portland Dining Month, when more than 60 restaurants across the city are offer three-course menus for just $25. We were wowed.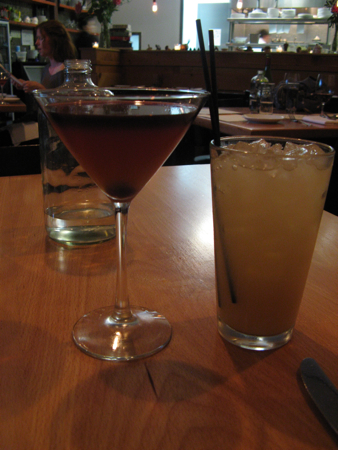 One of Aviary's signature cocktails is the "Brix Layer," a multi-layered drink made of bourbon, orange, and bitters, with a cherry at the bottom and red wine floating on top.
Aviary also offers several housemade non-alcoholic drinks. I sampled the "Purple Yam Shrub," a sparkling beverage which my server described, fairly accurately, as "earthy Kool-Aid." It was worth trying, but I much preferred the fizzy and super-gingery Ginger Beer.
One of the Dining Month appetizers was this murky-looking "Spiced Duck Leg and Broth"—a surprising cornucopia of intriguing tastes: falling-off-the-bone duck leg seasoned with Chinese five-spice powder, crispy brioche croutons, and unexpected bites of bitter daikon balanced by sweet dates, all topped with an oozing poached egg. Looks aside, this dish was a winner.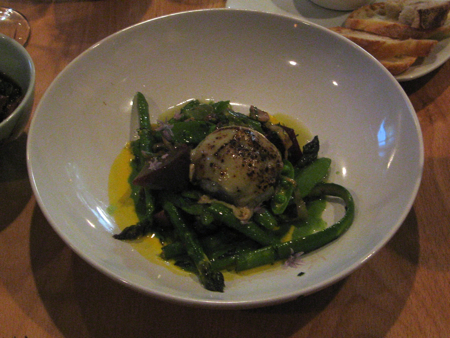 We also tried the warm vegetable salad ($12, from the regular menu), a bright spring vegetable plate with asparagus, fresh peas, and a black-olive Gruyere cake—a simple dish made special by the freshness of the ingredients.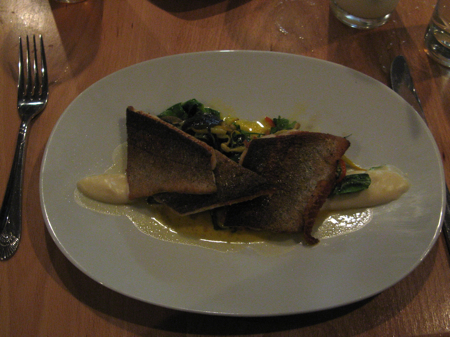 Pan-seared trout, one of the Dining Month mains, was excellent, too—perfectly flaky inside, with just the right amount crispness on the surface, served with fresh pea shoots, delicately pickled bean sprouts, and a sunny lemon sauce.
The Dining Month menu wrapped up with this gingerbread-and-toffee Stout Cake, paired with poached apples and a dollop of cream. Alan and I fought over the last bite, until he finally gave in, pleading, "Could you learn to make a cake like this? Please?"
What do you think, Aviary? Will you share the recipe with WanderFood readers?
Or do we all need to travel to Portland to ooh and aah over your inspired and imaginative cooking?
If you go…
Aviary, 1733 NE Alberta Street, Portland, Oregon, 503-287-2400, serves dinner Monday through Saturday. It's a quick drive, or a 20- to 25-minute bus ride, from downtown.
The Portland Dining Month promotion, with its three-course $25 menus, runs through the end of June. Aviary's Dining Month options include a choice of two starters, two mains, and two desserts. Aviary's regular menu is quite reasonably priced, too, with most mains from $13-18.
The Downtown Portland Marketing Initiative and Travel Portland subsidized my Portland trip, but I dined anonymously at Aviary. For more on my Portland food adventures, check out The WanderFoodie Eats Portland.
Tasty Travels!

Carolyn
Photo credits:
All photos © Carolyn B. Heller
1 comment