The WanderFoodie Eats Portland: Clyde Common
Communal tables and an open kitchen in a cavernous loft-like space. Check.
A long list of bourbons and creative cocktails. Check.
Picked grapes. Pickled fennel. Pickled cauliflower. Check.
If Portland's Clyde Common seems like a marketer's dream of hip culinary trends, well, it is.
But the food is ambitious and (generally) delicious, and this downtown restaurant is also great fun.
My husband Alan and I had the chance to try Clyde Common during Portland Dining Month, when more than 60 restaurants offer three-course menus for just $25. Clyde is serving one set Dining Month offering, along with their regular bill of fare.
Even at 7:45 on a Wednesday night, the crowds were three-deep at the bar. The restaurant, which opened in 2007, is clearly still a hot table.
The wait gave us time to mull over the vast selection of cocktails. Although perhaps we've been married too long to go for the "Heavy Petting" (vodka, grapefruit juice, Aperol, quinine syrup, and lemon peel), the suave classic Negroni (gin, sweet vermouth, Campari, and orange peel) was a perfect balance of sweet and tart.
Clyde Common's Dining Month menu starts with a simple green salad, with a sprinkling of almonds and slightly vinegary pickled grapes. My first thought was that the kitchen was going cheap with such a basic starter, but the super-fresh greens tasted as if they'd been harvested just moments before.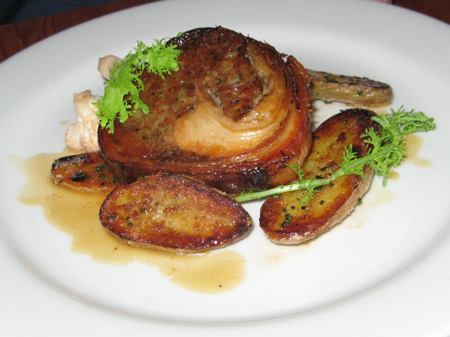 The main course is for pork partisans: a big meaty slab of porchetta, paired with roasted potatoes and extra-tangy pickled cauliflower. I'm glad that Alan and I decided to share this especially rich dish. The cauliflower (which I loved!) helped balance the full-bodied meat.
The dessert was as light as the porchetta was substantial: a custard-like lemon buttermilk pudding cake garnished with rhubarb preserves and a dollop of whipped cream.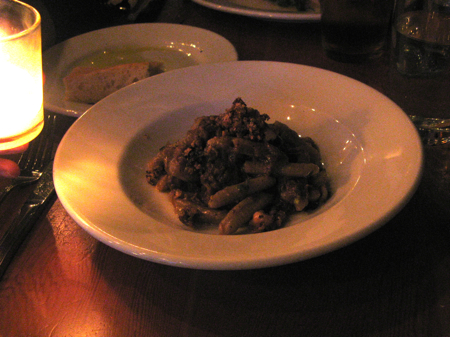 We also ordered a couple of items from the regular menu, including an appetizer-size portion of hazelnut cavatelli, pasta topped with a very salty, meaty sauce and bits of pickled fennel. I'd have preferred that the kitchen dial down the salt and add more of the bright pickled fennel. And I wouldn't have wanted a full-size serving of this extremely rich dish.
This seafood stew came with fresh and briny clams and mussels, a crispy fried oyster, a spicy sausage, and a slab of a crouton topped with aioli. The menu described it as plankton aioli, so of course, since I've never (intentionally) eaten plankton, I had to try it. Like bits of nori, the plankton gave the aioli a slightly sea-salty kick. I loved the mix of textures and flavors in this taste of the sea.
Clyde Common's Dining Month menu doesn't include some of the restaurant's more creative dishes, but overall, we were pleased with the kitchen's adventurous spirit. And extra kudos to the hostess who found us a seat at the bar and even took the time to update us on the wait when it took a few minutes longer than she had predicted for a table to open up.
If you go…
Clyde Common, at 1014 SW Stark Street in downtown Portland, 503-228-3333, serves lunch Monday through Friday and dinner nightly. The Dining Month menu is available at dinner only.
The Portland Dining Month promotion, with its three-course $25 menus, continues through the end of June.
My Portland trip was subsidized by the Downtown Portland Marketing Initiative and Travel Portland, but I dined anonymously at Clyde Common. For more on my Portland food adventures, check out The WanderFoodie Eats Portland.
Tasty Travels!

Carolyn
Photo credits:
Cauliflower photo by
Horia Varlan
(flickr)
All other photos © Carolyn B. Heller
3 comments