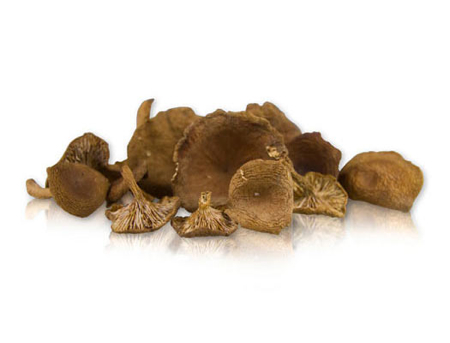 Not a single person guessed the secret ingredient in last week's mystery vegetable dessert. Want the scoop? Read on…
Maybe you've had carrot cake, zucchini muffins, or sweet potato pie.
At Vancouver's L'Abattoir Restaurant, pastry chef Hilary Prince has created a deliciously simple dessert using a more unusual vegetable.
Mushrooms.
It's the Candy Cap Mushroom Custard Tart.
Unlike most mushrooms, candy cap mushrooms have a flavor that's almost sweet. As Prince explains, candy caps, which are sometimes called curry milkcaps, have a "maple-y, sugar-y" flavor and aroma.
She treats them like she would a vanilla bean, using dried candy caps to infuse a custard with an unexpected sweet-umami flavor.
She steeps the mushrooms in cream for about 30 to 45 minutes. Then she uses the infused cream as the base for the rich and creamy custard, adding egg yolks and sugar.
Prince also garnishes the tart with a candied candy cap. "The mushrooms are expensive," she says, so to get more bang for her mushroom buck, she takes the candy caps that she uses for the infusion, then tosses them in sugar, and candies them. They taste almost like a smoky dried fruit.
Prince, who's been at L'Abattoir, an innovative contemporary dining room in Vancouver's Gastown neighborhood, since the restaurant opened in the summer of 2010, says that she first experimented with this sweet fungus by creating a candy cap mushroom ice cream. When she was looking to replace a nutmeg-scented custard tart with a new flavor, she decided to combine the two concepts and the candy cap mushroom tart was born.
Unfortunately, the candy cap mushroom tart is coming off of L'Abattoir's dessert menu soon, as Prince replaces it with more spring-like creations. But she said she hopes to bring the candy cap confection back when the weather turns cool again.
In the meantime, if you want more ideas for cooking with candy caps, check out the Cupcake Project's Mushroom Cupcakes, Everyday Food's Candy Cap Crème Brulee, and Marx Foods' "Candy Cap Challenge" Recipes.
Would you eat a mushroom dessert? Or have you encountered any really unusual desserts in your travels? Please leave a comment and let us know.
And if you'd like to share a food photo or other food adventure with WanderFood readers, join the WanderFood Wednesday blog carnival. Here's how:
Post a food photo on your site.
Add a brief description about the photo — or a longer food-focused post — and include a link to WanderFood Wednesday.
Add your blog name and the title of your photo or post to the "Mr. Linky" form below, with a link directly to your post (not to your main blog). That's it!
[mrlinky owner=wanderfood postid=28Feb2012 meme=2888]
Tasty Travels!
Carolyn
Photo credits:
Candy cap mushroom photo from Marx Foods
Candy cap mushroom tart photo © Alan Albert
Restaurant photo courtesy of L'Abattoir Restaurant