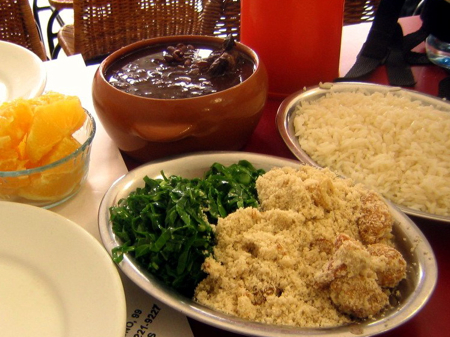 Vancouver, I have a confession to make. I do love you, but sometimes your damp, grey winter days have me dreaming of more tropical places. Oh, I know that your winters are shorter and milder than those in other places I've lived (Boston, I'm talking to you), but still, I can't help it if my rain-soaked thoughts sometimes stray to sunnier spots.
My travel dreams these days are turning to tropical food festivals, and these five are topping my wish list. Here's why:
Carnival in Brazil — Because I love feijoada, the Brazilian black bean stew (pictured above). If you're lucky enough to be headed to Carnival in Rio this month, here's a guide to feijoada eating.
Carnival in Trinidad — Rotis, bake and shark, souse, curried conch…
La Fête des Cuisinières, Guadeloupe — A festival of Creole food, prepared by women chefs!
Diwali in India — A sweet holiday in a fascinating country that I've long been wanting to visit.
Festival of the Yam, New Caledonia — Have you traveled to this South Pacific island? Do you like yams? Then why not?
What tropical food festivals are on your bucket list? Please leave a comment with your ideas to fuel our winter travel dreams!
And if you'd like to share a food photo or story with WanderFood readers, please do! Join the WanderFood Wednesday blog carnival. Here's how:
Post a food photo on your site.
Add a brief description about the photo — or a longer food-focused post — and include a link to WanderFood Wednesday.
Add your blog name and the title of your photo or post to the "Mr. Linky" form below, with a link directly to your post (not to your main blog). That's it!
[mrlinky owner=wanderfood postid=14Feb2012 meme=2888]
Tasty Travels!
Carolyn
Photo credits:
Feijoada photo by morrissey (flickr)