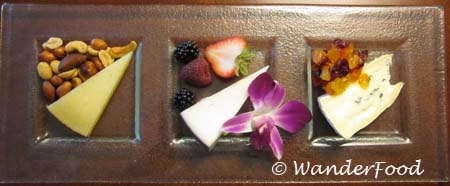 Aloha!
Jon and I were in Kauai in November for my birthday. Unfortunately, he was in the middle of selling his company and, as a result, ended up working much of the time.
Contracts have been signed (yeah!). Things have settled down (yeah!). And now Jon wants a do-over. So, we're headed back to Kauai for a more relaxing trip (double yeah!).
Looking forward to this trip has made me think back to that vacation in the fall.
Despite the work-factor, there were a lot of great memories, including our stay at the Grand Hyatt. If you've been to Kauai, you likely know that this is one of (most would say THE) finest hotel on the island.
Upon check in, we were treated to the above plate of cheese, nuts and fruit that were left for us in our room. That, and a bottle of wine, made a perfect snack after the long flight from Seattle.
The Grand Hyatt Kauai is best known for their beautifully-kept grounds and the fact that they are located directly on the water.
Their water activities include a salt water lagoon, freshwater pools and hot tubs. And the white sand beach is located just beyond a stretch of palm trees.
There are also several restaurants on-site from high end to more casual poolside fare. We had a fantastic dinner at Tidepools, where we enjoyed a fantastic meal in this open-air restaurant.
The Hyatt recently renovated their rooms so you'll not only have a great experience outside, but you'll enjoy the interior more than ever (though I wouldn't recommend spending TOO much time in your room!).
Come back to join the WanderFood Wednesday meme!
Life's Short, Eat Well!