WanderFood Wednesday: Japanese Onigiri Recipe
A friend served Jon and I some onigiri one night as a little snack. I had been razzle-dazzled with this friend's pineapple cheesecake in the past but didn't know his talents went beyond that. The recipe, as it turns out, is quite easy!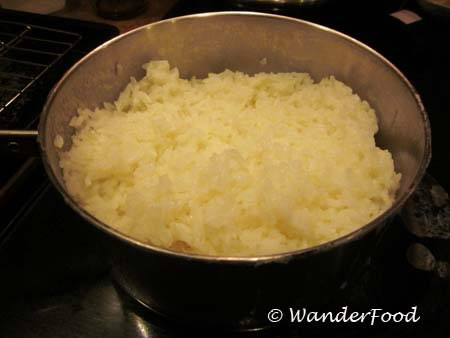 You start with some Japanese rice – this is the sticky sushi rice. Make sure you've rinsed it before cooking it.
Fill the onigiri mold with the warm rice leaving enough room at the top so that the lid fits on.
Gently press the top into the mold.
You then take off the top of the mold and drop each onigiri cake out onto either an oiled cooling rack (above) or oiled tin foil. If you're using tin foil, make sure you use a liberal amount of oil so the rice cakes don't stick.
Broil the onigiri cakes for 5-6 minutes on each side – just as it starts to brown on top. Have the oven rack as close to the broiler as possible for best results.
After broiling the second side, dip one half into soy sauce and then broil it, soy-side up for 4 minutes. Then dip the other side in soy sauce and broil for another 4 minutes.
When the onigiri is done, you'll have a rice cake that's crunchy on the outside and soft on the inside.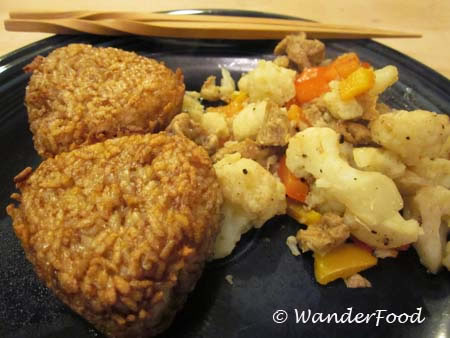 These are perfect with a stir fry!
Please join WanderFood Wednesday! Here's all you do:
1) Add a food-related post to your site (it can be a recipe, food photo or any other foodie find)
2) Include a link to WanderFood Wednesday so your readers can enjoy other food posts
3) For the best click-through results, add your name OR your blog name and the title of that day's post to the Mr. Linky form below
4) Include a link directly to your food post (not your main blog)
If you're a newbie, see more about WanderFood Wednesday here.
Life's Short, Eat Well!
7 comments