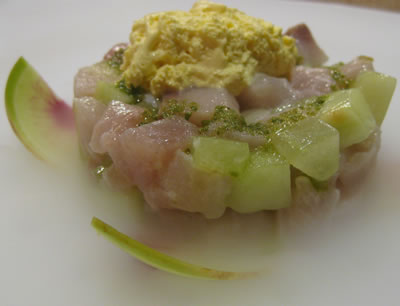 There's a reason why I'm still on a fruit and veggie fast since returning from my Culinary Press Trip to Kauai in May. It all started with our first stop which was Josselin's Tapas Bar & Grill.
The restaurant had just opened a few weeks prior to our arrival and was already the talk of the island with several people telling us they had already visited it multiple times. Located in the Kukui'ula Village Mall, Josselin's is the latest restaurant opened by chef Jean-Marie Josselin.
Jean-Marie had previously overseen A Pacific Cafe on the island and was recently lured back from a ten-year stint in Vegas.
Josselin's specializes in small bites with a vast array of options – from veggie to seafood to full-on meat. Following are just a FEW of the items we taste-tested. There was so much on the table I never did get shots of everything!
.
This is the Firecracker Salmon. Hmm mmm mmm mmm mmm.
This is the 36 Hours Braised Pork Belly (I didn't partake in this but it did look kinda good).
And to top it all off, lychee (which grows wild around the island) sangria. The sangria cart makes its way around the restaurant throughout the evening and there's always at least 2 options. Our other choice was pomegranate.
.
.

And the mighty desserts. How could one possibly turn away any of this food? You simply can't. And THAT is why I'm on a largely fruit and veggie diet, STILL 🙂
Interior of Josselin's Tapas Bar & Grill.
Reservations recommended. Open nightly from 5 to 10 p.m.
Please join WanderFood Wednesday by adding a link to your food-related post. If you're a newbie, see more about WanderFood Wednesday here.
Life's Short, Eat Well!
Like to eat? Subscribe to the WanderFood RSS feed or enter your email address at right to keep up on ethnic eats around the world.
[mrlinky owner=wanderfood postid=23Jun2010 meme=2888]