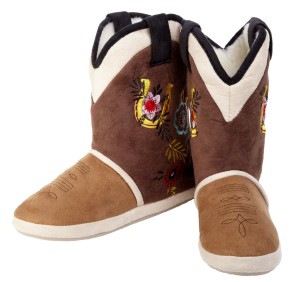 So, I have a confession to make. I love these slippers. I'm head-over-heels in love with a slightly ridiculous pair of shoes that shouldn't even leave the house and are, in fact, shaped and designed like a pair of cowboy boots.
I often tell shoe companies not to bother sending me a sample if I don't think I want an item. It collects dust in my closet and they wonder why I haven't written about them. Somehow, though, despite that feeling, I agreed to accept a pair of the Cicciabella Cowgirl Slippers.
Maybe it was because I thought they wouldn't leave the house. Maybe I knew that secretly, I wanted to wear cowboy boot shaped slippers. Maybe I was just feeling lazy and didn't say no.
Either way, they came, they saw, they conquered. The timeline went something like this:
Day 1: Shoes arrive. I put them on, snap pictures and make fun of them on Twitter
Day 4: Realize I've now worn said slippers three days in a row
Day 7: Start tweeting embarrassingly, that I've started to sort of like them
Day 11: Wear them to walk to the pet store, 3 blocks away. Get compliments from the sales girl.
Day 12: Ponder if the sales girl was being sarcastic. Decide I don't care.
Day 20: Give up the ghost, start raving about them
Day 25: Wear them at my own holiday party. Wake up with them still on.
So. What's the lesson here? Clearly, that cowboy boot shaped slippers, as ridiculous as they might seem, are awesome. Also, perhaps, that I shouldn't judge a book by its cover.
Either way, you can find a pair of slippers for yourself or a friend on Amazon. And the next time you see a girl wearing them while waiting in line to buy dog food? Don't make fun.
1 comment