Since the most frequent traveling I do happens between home and work, I am always on the lookout for the ideal, daily carry bag. One that can hold and organize all of the stuff I drag around every day (computer, charger, camera, notebooks, etc), and still have room left over for the surprise stuff (stack of books, power tools, slab of bacon…). In the continuation of this never ending quest, I most recently turned to San Francisco based Chrome and their Chrome Buran II Messenger Bag ($155).
The Buran is a well built, midsize bag that can hold plenty. Its outer shell is made from 1000 denier* Cordura and the inside is military grade truck tarpaulin, so you can be assured that what you put inside will stay pretty dry.  The main compartment is a single, cavernous pocket with a padded, zippered laptop sleeve (up to 17″) stitched into the back. On the outside, under the main flap is a 12″ wide pocket held closed with two 3 ½" strips of velcro. This is where all of the organization happens. It includes a main pocket, four stitched in organization pockets ( two wide, two pen sized) and behind them a zippered pocket. In front of these, two pouch pockets under a single velcro flap. Outside, on the back, there is a large, 10″ x 13″ zippered pocket.
And then there is the strap. The strap is what sets Chrome messenger bags apart. Made from seatbelt webbing and nicely padded, it's designed to be worn diagonally over the left shoulder and across the chest. In the center is the signature 'quick release' seatbelt buckle and steal adjustment gizmo (which doubles as a bottle opener). This diagonal motif is transferred to the bag itself, making it hang diagonally across your back. It even has instructions!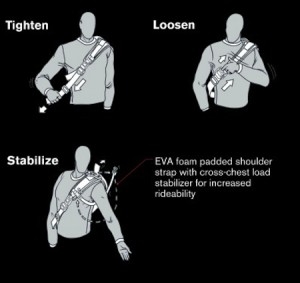 In use, the bag looks pretty cool, packs well and has a bare minimum of organization built in (which is more than most messenger bags), but the design of the organizational bits leaves a bit to be desired. Because of the way the inner pouch's velcro closure is at the hinge of the outer pouch flaps, if you put anything sizable in the outer pouches, it makes the inner velcro release. This can be overcome by bending the flaps and fussing with them, but it is a hassle. Doubling the concern for this is that the section that gets pulled open is where all of the lose organization happens. More than once I've picked up the bag to find a couple of pens or my check book laying there. This wouldn't be as much a problem in a more conventional bag, but because this one hangs diagonally the likelihood of loosing something is higher.
Speaking of diagonal, while the jaunty hang of this bag might look snappy while darting though traffic on your fixie, in daily use, the fits only one way design makes it a bit cumbersome. I don't always want to wear it across my body, but carrying it on one shoulder gets uncomfortable after a while. I also wish the padding on the strap was a couple of inches longer, but my frame is a little larger than average, so it is probably long enough for most.
Lastly, the buckle. As nifty as it looks, it is about 8 ounces of metal swinging at the end of two straps. This means, you have to pay special attention when carrying it by its top handle or setting it down, that you don't bash the buckle into something. This goes doubly for pushing the release button, as the adjuster half can swing down with enough velocity to leave a mark on anyone or thing next to you. If this happens to be your seat-mate on a plane, it can make for an especially long flight.
All of that said, I still like the bag and use it regularly, especially on motorcycle. The quality of construction makes it feel like it might outlast me, but it has some quirks that make it a bag that requires you to adapt to it, instead of it to you.
The Good:
Well built, sturdy materials
Weatherproof
Just enough organization
Crooked, Jaunty good looks
Fits comfortably in one orientation
The Bad:
Poorly designed closures for the front pockets, wish the inner one was zippered.
Front pouches taper toward the bottom
Fits comfortably in one orientation
The Why:
The two front pouches share a single flap.
Velcro runs all the way to the bottom of the pouches, 6 inches past the flaps.
Would I recommend it?: Yes. For someone who wants something different and doesn't mind working around a couple of quirks, I thinks it's good.
 Available from Amazon for $140
* The More You Know: Denier is a measure of mass in grams per 9000 meters of a fiber or yarn. The calculation is based on the length of a single silk fiber weighing one gram – 9000 meters.
Photo credits – Chrome website