Tagging Along with Artisan Fisherfolk In Tárcoles, Costa Rica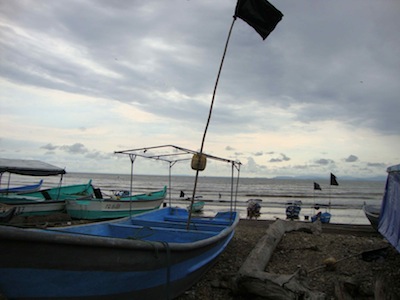 OK, so in all the time I haven't been blogging (ahem), I've been getting to know Costa Rica's Central Pacific Coast. In September, group of us traveled to Tárcoles, a fishing village. It's on the way to Jacó, one of the country's biggest beach towns, and the so-called Las Vegas of Costa Rica (so far my Jacó experiences include a temperamental ATM and a primo grilled tuna taco bar).
We visited Coope Tarcoles, a cooperative that promotes sustainable, artisanal fishing. I took the photo above toward the end of our first day. In the pic below Theo, a co-op member, showed us the different sizes of nets they use, as well as the lines and hooks (which have to be untangled by hand, as in the third photo) and the freezers where they store the catch before it's sold.
Coope Tárcoles is also part of a rural tourism movement. Our group of nearly 30 folks stayed overnight with host families in town, then tagged along with fishermen the next morning. (I was assured that the co-op includes fisherwomen, too, but they weren't part of our tour.)
I'm suspicious of tours and guides. The experiences often feel manufactured, manicured. A guide is usually more of a distraction, and can get in the way. But this weekend was both informative and relaxed. I was interested in how this non-profit works, and what it's like to be a small-time fisherperson. I was especially excited about Limoncito, the beach we visited after we "fished," (my only catch: a friend's hook).
My host mother had lived her whole life in Tárcoles. My 12-year-old host sister confirmed that my host mom, Caramin, is younger than I am, so maybe "mom" isn't the right term. Caramin's husband, Rafael, did electronic repairs, not fishing. Rafael showed us his sketchbook, full of cartoon characters and tattoo ideas. Two snakes and a bat he'd killed floated in jars of formaldehyde atop their TV. I couldn't tell what time we were supposed to leave for karaoke down the street because the wall clock was stuck at 9:30.
Caramin served us tasty traditional Costa Rican fare (homemade tortillas with breakfast, anyone?) on her covered patio with a rowdy mosaic floor, next to two dogs behind a fence who were interested in our leftovers and a tabby cat who paid me no mind.
Host sister chatted with us in slow Spanish and texted on her phone while we ate. She suggested a walk after dinner, during which she pointed out where we can see the beach at night. She pointed out one of the boys is who's in love with her (we stood by awkwardly, staring at the nighttime ocean, while she grabbed the admirer's bike handlebars and talked to him).
At the end of our walk, near our hosts' house, a man in a white shirt fussed with his black bow tie outside the corner bar. He said hello, and asked me how I was. The man in the bow tie turned out to be the karaoke emcee. He asked me to dance and said his name was Jesús. I'm not like Jesus, he said. I like to dance and party.
Add a comment