The "All Guts, All Glitter" Ethos of Roller Derby: An Interview With Molly Hatcher
A few weeks ago, I attended my first roller derby. The Lilac City Rollergirls, in Spokane, crushed the Apple City Roller Derby Bad Apples. I was charmed by the event (and, of course, the outfits), so I got in touch with childhood friend Molly Hatcher for the lowdown on roller derby style. Molly sent the photos, too (photo below is by Sean Gabriel).
Molly is a retired attorney / PhD candidate in English and Women's Studies at the University of Michigan.  She should be working feverishly to finish her dissertation about literary texts in the Digital Age, but she has an army of distractions: sewing, quilting, gardening, baking, and roller derby, all of which you can read about at her blog, madhatcher.wordpress.com.  This fall she will embark on her fourth season as a skater for the Detroit Derby Girls while she attempts to complete her dissertation and land a tenure-track professor position.
WanderChic: How did you get involved in roller derby?
Molly Hatcher: Having both a severely competitive spirit and little hand-eye coordination made me a weak candidate for the team sports that were available to us as children in my hometown of Huntington, WV.  So I took dancing classes after school and strapped on my roller skates on the weekends.  When I heard about the revival of roller derby as an all-female, full-contact sport in the mid-2000s, I was intrigued about the idea of a sport that involved skating, didn't incorporate the passing or hitting of a ball, and actually encouraged me to channel my competitiveness through physical aggression!  I became hopeful that wherever I lived next there might be a roller derby league that I could try out for.  Sure enough, my acceptance at University of Michigan put me near the women's flat-track roller derby league in Detroit, though it took me three years to muster up the courage to try out.
WC: I've heard roller derby described as a sporting event for people who don't like sporting events. How do you explain roller derby to someone who hasn't attended one?
MH: What modern roller derby takes from the old-school roller derby that was televised in the 1970s and 80s is a performative spirit.  For example, derby uniforms are usually pretty costume-y, with glittery makeup, patterned tights and socks, and bright colors.  And the full-contact nature of the sport makes for quality entertainment…there's something great about strong women with athletic prowess taking each other out on the track.  Modern roller derby is less about spectacle than its precursor (uniforms have become more streamlined, we don't hit with elbows or fists, there is a greater emphasis on the rigorous physical training behind the sport), but it's still something of a combination between an athletic event and a performance.
WC: How do you decide what to wear during a bout? Can you personalize your uniform?
MH: While modern roller derby is beginning to professionalize a bit, many teams still allow an element of personalization.  As I was a tomboy growing up, I owe my newfound love of makeup and glitter to my home team, the DFunk Allstars.  Our motto is "all guts, all glitter."  We all wear the same jersey, but we choose our bottoms and accessories, such as lime green glitter hotpants, fishnet or glitter tights, and socks with skulls and stars on them.
WC: How would you describe your personal style? Has roller derby affected your look?
MH: I lean towards the simple and classic, but I'm a little rough around the edges.  While derby hasn't influenced me to start shopping at Hot Topic for my day-to-day attire, it has given me the confidence to be a little more adventurous with my wardrobe.  I wear more color now than I did before.  And one of the greatest things about the sport is how it doesn't cater to a particular body type.  You come in with whatever you've got, and you learn how to use it to your advantage.  This helps cultivate body acceptance which I think also affects how I dress now.  That's a good thing. I have gone up 3-4 pants sizes since I started playing derby because it quickly builds your leg and rear end muscles!  My fellow derby sisters and I are always on a quest to find pants that fit typical waists, big butts, and burly thighs.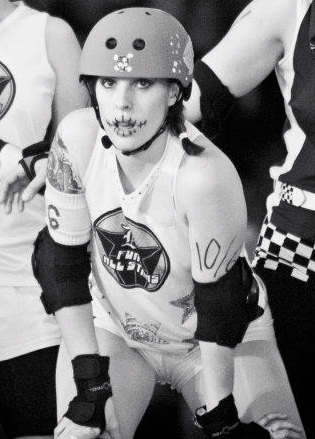 Photo above by Val Weiss.
WC: How do your prodigious sewing skills influence your style?
MH: My mom taught me how to use a sewing machine when I was a kid, so I've been sewing for as long as I can remember.  Right now I am working on a quilt for my niece that compliments this print by Maia Larkin.  I have made my own clothes in the past, though I prefer quilting.  I have made the muslin mock-up for this dress and just need to make some adjustments to the pattern before I can make it in the printed fabric.
And I think sewing has made me more aware of the possibility of recycling clothes and making them sustainable.  I love seeing what I can find at vintage shops, and if something doesn't quite fit, I know how to alter it to fit my body.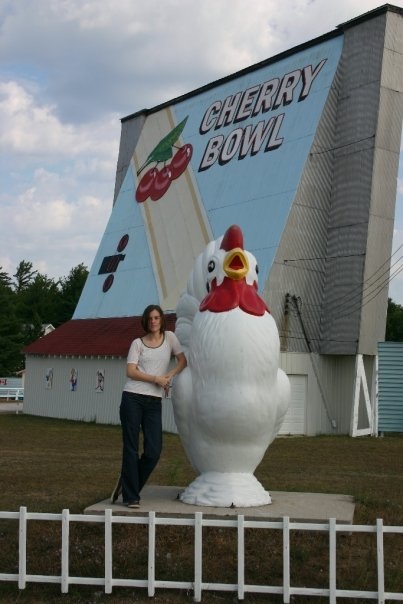 WC: What's the secret to choosing a good derby name? Or is one given to you? I was trying to figure out what mine would be. My favorite so far is Prozac Attack.
MH: Choosing a derby name is one of the most fun parts of one's initiation into derby world.  I thought long and hard and eventually decided upon The Mad Hatcher, a combination of my last name and one of my favorite literary characters.  The first name I chose, Maully Hatchet, was already taken (all names are registered on the International Rollergirls' Master Roster).  You're safe, though.  Prozac Attack is still available!
WC: Good to hear. You have graduate degrees in law and in English, right? Does your academic training intersect with roller derby at all?
MH: Yep.  A JD, a Master's in English, and working on my doctorate now.  It's funny…being a doctoral candidate (especially when the job market is so abysmal) isn't a job that offers much affirmation.  But because our roller derby league (like most) is run by the skaters, I have the opportunity to offer my research and writing skills for policy drafting and implementation, and I get a lot of support and positive feedback for that.
WC: Do you get to travel with your derby team? What are your travel essentials?
MH: I have skated with DDG's B-level travel team, the Motor City Disassembly Line, for the past three years and it's so much fun.  We do get the opportunity to travel regionally—we played games in Milwaukee and Pittsburgh this season.  Derby gear takes up a lot of space and we need to pack light, so you often end up living in your uniform for the weekend.  My packing list always includes skate gear and team jerseys, an array of leggings and bottoms, lots of extra pairs of socks, coconut water and carb-heavy snacks, makeup, a pair of jeans, and flip-flops.
WC: What are your goals/future plans for roller derby?
MH: Roller derby is physically quite rigorous, so I'm going to keep playing until my body tells me I can't anymore (I have had a broken nose, two minor concussions, several hematomas, an assortment of strains, and issues with tendonitis in my knees and Achilles tendon).  The sad thing is, I'll probably have to leave my Detroit league soon as my graduate education comes to a close.  So, while most people on the academic job market have a number of geographical considerations for their future job, I'm probably the only one who just wants to teach somewhere that has an established roller derby league.
2 comments