Savoring the Sweet Hush of the Fitting Room In Costa Rica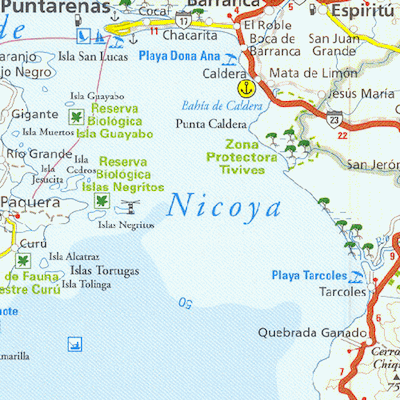 My host mom says that Costa Rica has a different micro-climate every two kilometers. As I ride the bus up Monte de la Cruz to my school's campus, my ears pop. I'm inclined to believe her. The campus stretches out at about 6,000 feet, where it's often sweater weather.
I didn't bring much beachy wear, though I could use it this coming weekend for our trip to Tárcoles, a fishing village on the Pacific (and shown in the lower right corner of the map above, from Discovery Travel World.) Last weekend, I also wished I'd brought more summery clothes when I caught the Independence Day parade in San Rafael, the nearby town (pictured below).
In San Rafael, I stopped into one of the local bakeries to sample their wares and to recover from parade overload with a double espresso. I figured that most of the shops would be closed because it was a holiday. But Ropa Americana, a thrift store with Gap, Old Navy, and other brands stamped on the storefront, was open.
I flipped through a rack of t-shirts while parade sounds bustled in the background. As the drums and xylophones faded out, some techno Christian music buoyed me through the small shop. (Such songs are recognizable because in addition to their endemic peppiness, there's a lot of "corazón" (heart) and "Señor" (Lord). I grew up in an evangelical church and did my time with praise music in college, so I have an ear for these things.)
At Ropa Americana, I was in the zone. I found a black western dress with snaps all down the front and a generous helping of fringe on the sleeves. It fit me well, but I couldn't imagine an occasion to wear it unless I start an alt-country band or hit karaoke night at the nearby country club (where there's a year-round haunted house and an indoor ice rink. But that's a subject for another post).
I left the store with a pair of red Gap cords and a white and orange swirly H&M shirt, clothes I could just as easily have found at a Goodwill back in Spokane. I may be a good bit taller than the average Tica, so that I can see over the fitting room door while I'm changing clothes. But puttering in a thrift store, like drinking good coffee, is a ritual that helps me feel at home no matter where I am.
Add a comment