Shopping For Shoes and Floored By the Feet in Heredia, Costa Rica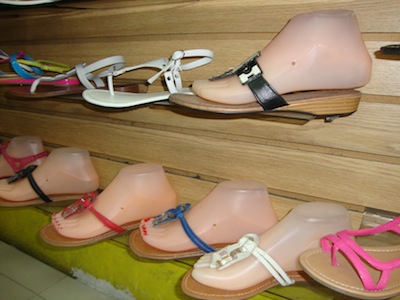 My feet have been "big" (size 10ish, or 41 in Euro size) since middle school. When I was a kid, the fun styles at the mall often topped out around size 8 or 9. With running shoes, I'd approach Lady Foot Locker with butterflies of lady hope in my stomach, only to be sent to regular Foot Locker and shod with men's sneaks that were sometimes too wide, and definitely not cute.
For this semester in Costa Rica, I tried to choose my footwear wisely in case larger shoes proved elusive here. It's the rainy season, so I brought an offbeat pair of Merrell boots that are kind of dressy, and a pair of cowboy boots I snapped up at Buffalo Exchange (I wore the cowboy boots on the plane because they're the bulkiest.) I also packed a new pair of running shoes, a pair of comfy flip flops for the beach, and my hot pink crocs (I figured they'd be more versatile than slippers, and they're designated for home use only).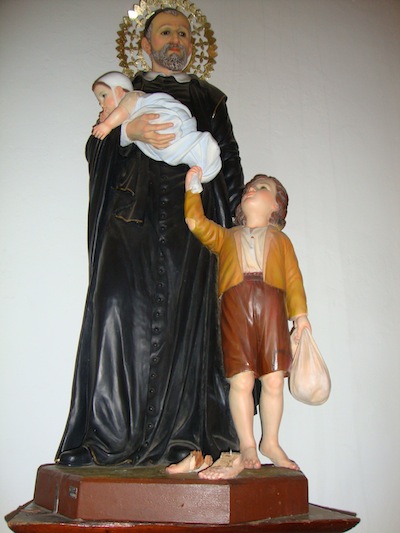 I recalled from my brief visit to Costa Rica in January that there are a wealth of shoe stores in Heredia, the college town between my school and San Jose, the capitol. When I was in Heredia the other morning, two of my compatriots bought oxfords and a pair of Costa Rica-made tall sneakers, while I (uncharacteristically) looked but didn't try anything on. (I did spot a few size 41 boxes stacked in the inventory over our heads. Maybe with some patience I can find my Costa Rican equivalent of Nordstrom Rack, which is the bigger footed lady's shoe paradise).
I felt kind of shopped out from all the provision gathering before my departure. Plus, I'm still absorbing Costa Rican style. What are all those fashionable Ticas wearing on the streets of Heredia and San Jose?
I was, however, quite taken by the plastic feet in the store's displays. Might they sell me a plastic foot? I asked the friendly saleslady. No, we need them for the store, she said. But she let me take a picture, which is at the top of this post. The feet are both kitschy and reminiscent of the relics that mesmerize me in Catholic churches.
Before the shoe shopping began in earnest, we spent a few moments inside the Inmaculada church in Heredia. I marveled at the Jesuses, the Virgin Mary with her fantail of sunbeams and what looked like giant marshmallow stars. But it was the the statue of this saint carrying a baby that commanded my attention. I'm shaky with my hagiography, so I don't know who this guy is (anyone? help?), or why the child is tugging at him.
But the bigger question for me is, what happened to the kid who left his feet behind?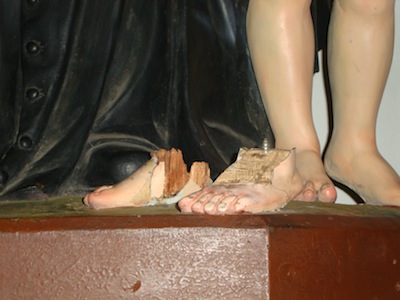 1 comment