Sorting My Feelings About the Running Skort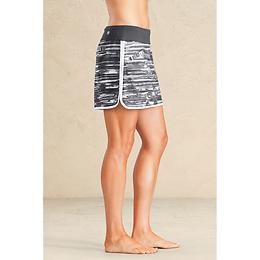 In my last post, I was riding the runner's high after finishing the Cascade Lakes Relay. One of the great joys of running events is the people watching. I can't help but check out other runners' clothes and gear.
Runners, as a group, are not always known for their style. That's part of their adorkable charm. That's one of the reasons I like runners so much.
Here in Spokane, the Flying Irish Running Club celebrates several costume runs every year. Right after I moved to Spokane two years ago, I showed up for the club's Rock 'n Roll costume night. There were plenty of punk wigs, pleather pants, inflatable guitars among the hundreds of runners. I took it as a sign that I was going to like Spokane.
As a runner, you can wear whatever you like. Just keep moving. (In the case of the Bare Buns Run, a western adventure upon which I have not yet embarked, a runner need not bother with clothing at all).
At the Cascades Lake Relay, two of my teammates favored running skorts for part of the event. I've been a convert to running capris, but I have yet to cross over into skort territory.
I think in part it's a name thing. "Skort" sounds like "spork," another useful but strange hybrid. While "spork" I associate with 7-11 and Taco Bell, the skort brings back memories of high school and church camp (doesn't it all come back to church camp?).
Don't get me wrong: I wasn't forced to wear skirts all the time. My childhood wasn't like that. But modesty was emphasized, even while one was playing (or in my case, trying to avoid) kickball. It was the 90s. We were past the age of culottes. But some girls liked skorts. Skorts just seemed fussy at best. Why not just admit you were wearing shorts? Does that extra front panel reduce temptation? Does the shorts-hidden-in-a-weird-skirt trick make you feel like you're getting away with something?
Anyway, clearly the skort has come a long way. The photo above shows the Printed Swift Zip Skort from athleta.com. I'd try that skort for the print alone. The flirty model below is from Jen's inspiring running blog.
I'm assuming that my teammates wear a skort because it's not just another pair of shorts. Details like prints and ruffles set these garments apart. But my research is only preliminary. How does it feel to run in a skort? Is your movement limited? Or do you feel more free? Help me out here.
7 comments