Shopping for Style And A Way To Give Back: An Interview with Global Neighborhood Thrift's Amy Hendricks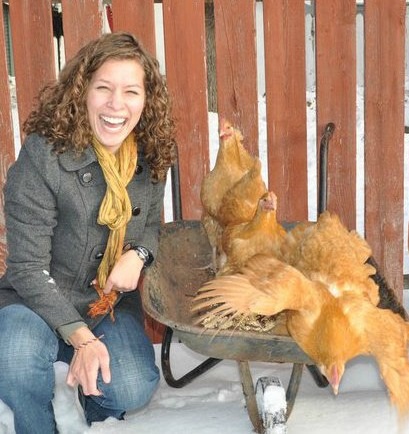 You don't have to read this blog for long to figure out that I'm a fan of thrift stores. They're full of unique treasures, and the non-profit ones support good causes (which makes shopping not unlike a good deed, at least in WanderChic logic).
Global Neighborhood Thrift is one of my favorite stores in Spokane. I love the music, the merchandise, and the store's mission. Oh, and the Bucket Sale. Recently, Global Neighborhood's Amy Hendricks (above, with chickens) talked with WanderChic about style and running a store. She also submitted the photos.
Amy is from Mukilteo, WA, a smaller town 20 minutes north of Seattle. She earned a B.A. in Sociology from Whitworth University. Amy settled in Spokane, WA, where she met and married her now husband, Brent Hendricks. Together, they run Global Neighborhood, a local non-profit providing long-term friendship and support to refugees in Spokane, where Amy serves as the Director of Volunteers. Amy loves to travel, learn and study cultures, garden, and peruse the U.S. Census Bureau site.
WanderChic: Describe Global Neighborhood Thrift. What sets your store apart from other thrift or consignment stores?
Amy Hendricks: Global Neighborhood Thrift was started out of a desire to provide excellent employment and job training opportunities for refugees in Spokane. Our staff is committed to providing the best customer service in Spokane. Our employees are trained in interacting with customers as if they were welcoming them into their own home.
Every detail is important at our store. Global Neighborhood Thrift offers free coffee courtesy of Indaba Coffee, great music, and amazing prices. We seek to make our customer's shopping experience positive by maintaining a clean and clutter-free shopping environment. We also offer weekly color tag sales as well as our infamous Bucket Sale, where customers can stuff a 5-gallon bucket full of clothing for only $25.
WC: Have you been a longtime fan of thrift stores? If so, what are your thrifting habits? (And: Do you get to shop your own store?)
AH: Thrift stores have always had a warm place in my heart. So much so that I sought to shop exclusively at thrift stores throughout college.
I am a "hunter-gatherer" type person in thrift stores. I usually come with a list of items I need. Material and fabric are really important to me, so I look for clothing or household items that attract my eye first. I can usually alter a zipper, add a few buttons, or hem a pant leg later.
Since working at Global Neighborhood Thrift, I have spent most of my thrifting monies at our store. I see how my dollars are being put to use every day, and couldn't really imagine my money supporting a better cause.
WC: How would you describe your personal style? Where are your favorite places to find clothes you love?
AH: I am a true eclectic. I tend to wear pretty "earthy" clothing: linens, light fabrics, clothing from other countries, with a hint of outdoorsy-ness. I like clothes to be comfortable enough for me to take walks in during the day, clean, and move boxes at the thrift store. I like simple clothing with no words or brands on them.
I have come through stages in my style where I felt like I needed to be like everyone else. These past two years, I have gotten a lot of peace about my own style, and kind of do my own thing. I look up to people who can be themselves.
I love to shop at independent small businesses or thrift stores. I was recently in Nelson, Alberta, and found a wonderful sun hat to wear in my garden. I love supporting small businesses and finding unique, one-of-a-kind items that I can put to use.
WC: Have you done any traveling recently? What are your travel essentials that you always take with you?
AH: I love to travel! My husband and I traveled to Thailand a few years ago for a wedding, and I have also been to the Dominican Republic, Tanzania, and Germany (and of course the obligatory Mexico and Canada!)
Whether it's backpacking in the Canadian Rockies or world traveling out of a small suitcase, I always bring a colorful scarf. With a thin, bright scarf, I can easily spruce up a plain, neutral tank top and shorts, use the scarf as a holder for fresh fruits and vegetables at markets, or tame my crazy curly hair by wrapping the scarf around my head. I always take along a small notebook to write notes, doodle, press a fresh flower, or jot down helpful language phrases. As you can see, I'm pretty practical when it comes to fashion, so I also always toss in a sweater or light jacket. I am usually cold, and it's nice to have something to grab out of my purse and throw on in the evenings.
WC: On a typical day (as if such a thing exists), what would a fashion-minded woman find at your store?
AH: Global Neighborhood Thrift has everything from vintage to higher-end fashion items. We have everything from sleeveless tanks to puffy-sleeved tees to evening gowns to high-end jeans. We also have a great variety of shoes and boots. A small glance through our racks will reveal brands from GAP to J. Crew to North Face and every independent (or even hand-made!) brand you can think of!
WC: What advice would you give to someone thinking about starting a nonprofit or opening a thrift store?
AH: We started Global Neighborhood (and its thrift store) as a result of building friendships with refugees in Spokane. We had countless conversations with our friends from other countries before starting both ventures. It was and continues to be important for us to stay connected to our over-arching goal and vision. While making money allows us to continue in our vision, we never want to lose touch with the people we are seeking to serve and empower.
I would also say that you can't do it alone. In a culture of individualism, it can be hard for people to admit that they don't know everything. I will be the first to say that we at Global Neighborhood are not experts! However, we are continually seeking to learn, grow, and build partnerships with people, businesses, and organizations in Spokane who are seeking similar goals as our own. Find opportunities to partner with others, hold discussions, and listen to other people.
WC: Global Neighborhood is celebrating its first anniversary. Congrats! Why did you decide to open the store?
AH: The unemployment rate in the U.S. is very high, and the barriers to employment are difficult for everyone. For refugees coming into Spokane, the employment barriers are even steeper. Without American work references, education in the U.S., or fluent English-speaking skills, refugees, however qualified for a position, are at the bottom of the employment ladder.
Our hope is that Global Neighborhood Thrift would serve as a training location for refugees to gain skills and experience they need to find better employment in Spokane. The positions are intended to be temporary and empowering, allowing refugees to gain the skills they need to work in retail or alternative workplaces. Spokane's working environment is not set up for people who may not speak English fluently. Global Neighborhood Thrift is attempting to provide a "stepping stone" employment opportunity for refugees, allowing them to practice and gain work experience in an understanding environment in order to become excellent employees at different businesses.
WC: What are your upcoming plans?
AH: Our vision is to be able to hire a continuous stream of employees at our store in order to equip them with skills to successfully work at businesses in Spokane. We are in the midst of hiring another employee, a woman from Sudan. We have plans for an additional employee in the next few months. We hope to make our name and presence in Spokane known to both refugees and the greater Spokane community!
Add a comment