Foraging the Charming Farms of Green Bluff, Washington
What's better than having one sunhat in the backseat of your car? Having two sunhats. When my friend Des visited me last August (that's her on the left), we spent an afternoon among the farms and stores in Green Bluff, about 40 minutes north of downtown Spokane, Washington.
The Green Bluff Growers have a spiffy web site, including a map of over 40 ports of call with blurbs and contact info for each farm. There's also a Fresh on the Bluff link, like a produce forecast, so you can see what's ready for picking before you make the trip. (Image below courtesy of their site.)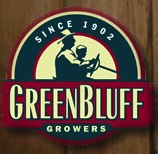 Green Bluff offers treats for each season. I missed the strawberry crop, but just last weekend I was there to grab some cherries. We stopped at a u-pick orchard, where the trees were tagged with colored streamers according to variety (we zeroed in on Rainier). I braced myself on an at-my-own-risk ladder. But then I realized that some of the trees farther from the road were laden with cherries on lower branches. Of course, I had to sample a cherry from each tree for quality assurance purposes.
One of my favorite things about Green Bluff is that you can find no-frills farms with handwritten signs as well as more polished places, like the Harvest House, where they offer generous (careful if you're the tour guide!) wine tastings. Another spot I like is High Country Farms. You can nibble your gourmet panini and sip your iced americano after browsing their crafts, books, and fresh produce. They've also got a tiny orchard of short cherry trees nearby. Why are those trees so stubby, I wondered? And then I realized: it's for kids. Duh. No ladders required.
My Green Bluff circuit isn't complete without a stop at Trezzi Farm for a tray of homemade pesto lasagna (and some extra pesto for pasta later. Oh, and maybe some polenta with marinara).
After my trip to Green Bluff last weekend, I feasted on a ripe tomato, fresh corn on the cob, pesto lasagna, and a cherry crumble from this recipe (sans rhubarb. Nothing against rhubarb. I just didn't have any). It was a celebrate-the-moments-of-your-life kind of moment. I gave thanks. And  I dug in.
For more views of Green Bluff, check out this slideshow from Country Living.
Read more foodie goodness at WanderFood Wednesday (happy one year WanderFood anniversary, Carolyn)!
Add a comment